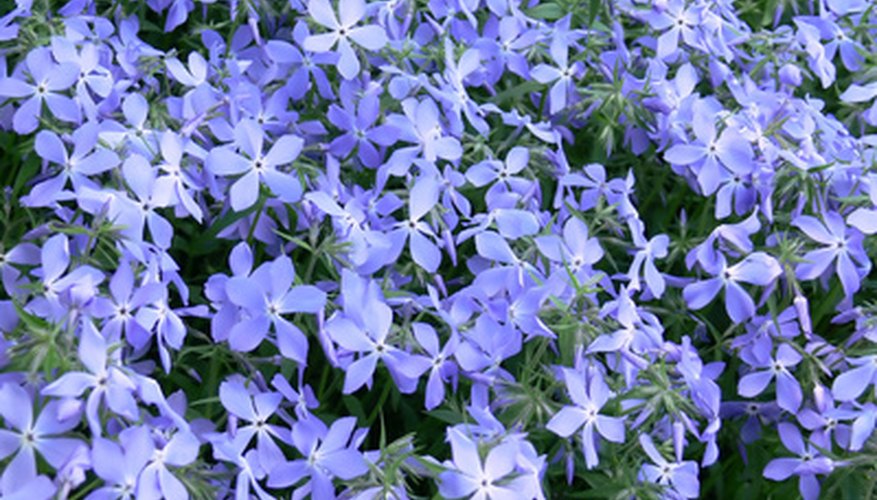 Creeping phlox is a perennial growing 6 to 12 inches tall. The green leaves form low-growing mats in full sun to full shade exposure. The white, pink, purple and violet, five-petaled, trumpet-shaped flowers tower over the leaves in spring. Creeping phlox spreads rapidly throughout its growing site. Creeping phlox is commonly grown as garden borders, rock gardens and ground covers for erosion control. Creeping phlox thrives in USDA winter hardiness zones 3 to 9 and survives freezing temperatures down to minus-35 degrees Fahrenheit. Still, it requires some care over the winter.
Inspect your creeping phlox for insect pests hiding in the leaves in the fall before winter weather hits. Garden pests hide under leaves to survive the winter. Spray your creeping phlox with insecticidal soap if you notice an infestation.
Pull the weeds out of your patch of creeping phlox by hand. Water the phlox to soften the soil. Grasp the weeds at the base and pull the weeds up out of the soil, attempting to keep the roots intact. Wear gloves since some weeds are covered with tiny spikes.
Surround the creeping phlox bed with 2 to 4 inches of mulch like sawdust, wood chips and straw after the soil starts to freeze. This will keep the soil from thawing and refreezing during the winter, which damages the phlox's shallow roots.
Cover the creeping phlox plants with evergreen tree branches, loose straw or burlap sacks. This prevents water loss due to leaf moisture evaporation.
Add a layer of snow over the evergreen branches when it snows. This keeps the phlox plants dormant when the air temperature rises above freezing during the winter.
Things You Will Need
Insecticidal soap

Water

Gloves

Sawdust

Evergreen tree branches
Tip
Creeping phlox thrives in moist, good-draining soil with occasional fertilizing. Planting phlox in an area with good air circulation prevents plant problems like powdery mildew.
Warning
Leaf spots, botrytis blight, nematodes and mites are common problems for creeping phlox. Small mammals like rabbits will chew and eat phlox plants.