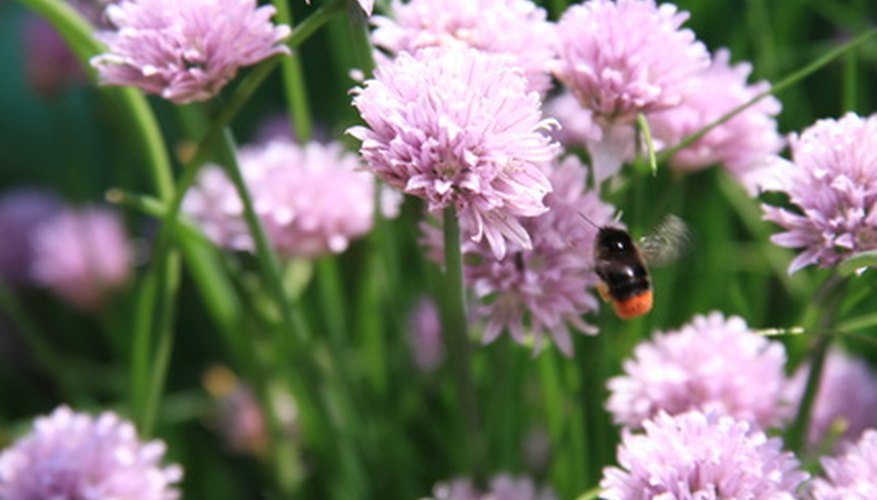 The Allium genus belongs to the lily plant family (Lilaceae) and contains a wide variety of bulbous perennial plants. If you would like to plant allium, select varieties according to your United States Department of Agriculture (USDA) Hardiness Zone, intended use, bloom information and general cultural requirements. Various allium varieties perform well in American lawns and gardens.
Blue Globe Onion
The blue globe onion (Allium caeruleum ) naturally occurs in Siberia, Northwest China and Turkestan. Winter hardy in USDA Zones 4 to 8, this allium species forms mounds ranging from 12 to 24 inches high and 6 to 12 inches wide. The green leaves wither before the clusters of sky blue, star-shaped flowers appear in May and June. The foliage smells like onions when bruised or cut. Blue globe onions prefer dry, sandy or loamy soils that receive plenty of sunlight. Plants sometimes suffer from bulb rot in wet soils. Established plants tolerate drought conditions. Gardeners often plant blue globe onions in rock gardens, sunny borders, meadows and cottage gardens.
Star of Persia
The star of Persia (Allium christophii) reaches up to 2 feet tall and spreads out up to 18 inches. Native to Central Asia and Iran, the star of Persia generally performs well in USDA Zones 4 to 8. Numerous light lavender to deep amethyst flowers form large flowerheads in May. Grayish-green leaves reach up to 20 inches long. This allium plant variety likes dry, loamy or sandy soils in full sun positions. Leaf spots, mildew and rust sometimes occur. The star of Persia adds ornamental interest to containers, meadows and perennial flowerbeds.
Golden Garlic
Golden garlic (Allium moly), also known as the lily leek, naturally grows in Europe and generally thrives in USDA Zones 3 to 9. Golden garlic plants range from 9 to 18 inches tall and 6 to 9 inches wide. The golden garlic plant likes rich, loamy soils in partly shady to fully sunny locations. Clusters of star-shaped, yellow blossoms bloom in May and June. This inedible allium variety smells like onions when crushed or cut. This hardy plant has few health or pest problems. Gardeners usually use golden garlic in naturalized areas, rock gardens and cottage gardens.
Chives
Chives (Allium schoenoprasum) feature deep green, grass-like leaves and clusters of light purple flowers that bloom in April and May. Mature plants form clumps that range from 12 to 18 inches in both height and spread. Native to Asia Minor and Siberia, this allium species typically grows well in USDA Zones 4 to 8. Chives prefer well-drained, medium moist soils in partly shady to fully sunny locations. Cooks often use chives as a culinary herb to spice up soups, sauces and salads. Root rot occasionally occurs in poor-draining soils. Chives work well planted in herb gardens, rock gardens, containers and vegetable gardens.