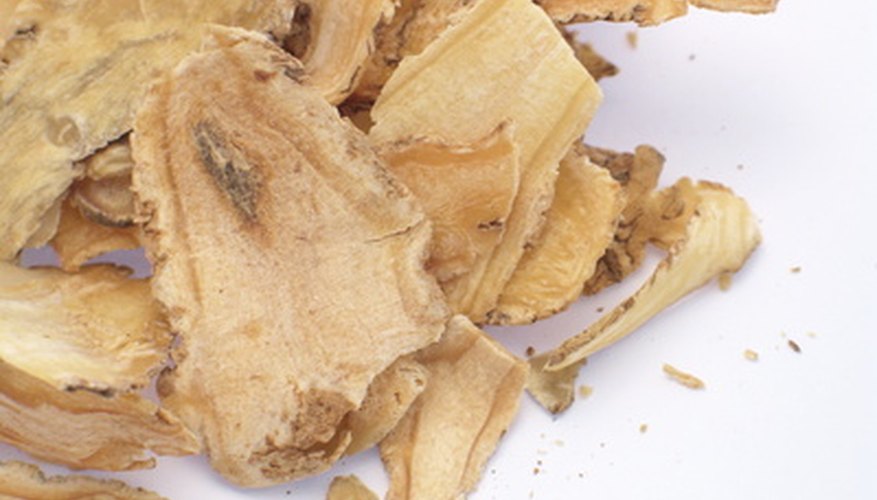 The root of the ginseng plant has been highly prized in Asia for thousands of years. It is now becoming just as prized in the United States. The root has been used as a tonic for the nerves and as a natural stimulant that can help with fatigue and exhaustion. It grows best in natural wooded areas that are well-shaded. Ginseng plants can be damaged by fungal problems if they don't receive the proper water levels.
Make sure the soil in the area where you plant your ginseng has rich, loamy soil that drains well. Plant your ginseng in an area that slopes to the east or north to enhance drainage in your bed. Ginseng plants are sensitive to dampness.
Check the soil around your plants for salt deposits by looking for yellowish white clumps in your garden area. Salt buildup typically happens when water is scarce on hot days, or when fertilizer has built up in the soil. Flush the soil by watering your garden area until it very moist, and then let the soil dry out before watering again.
Check your soil each day by putting a small amount of soil from your ginseng growing area into the palm of your hands. If the soil balls up easily or sticks to your hands, don't water your garden that day.
Water your garden when the soil has become dry and does not ball up in your hands by giving your plants water until the soil is moist but not soggy.
Check your plants for signs of fungal disease. Look around the stalk near the soil surface for damping-off. Damping-off can be identified by a thinning of the stalk. Plants will often collapse from damping-off.
Remove any plants that have signs of fungal disease to protect the remaining plants. Reduce the amount of water you give your plants. Excessive moisture often enhances problems with damping-off.