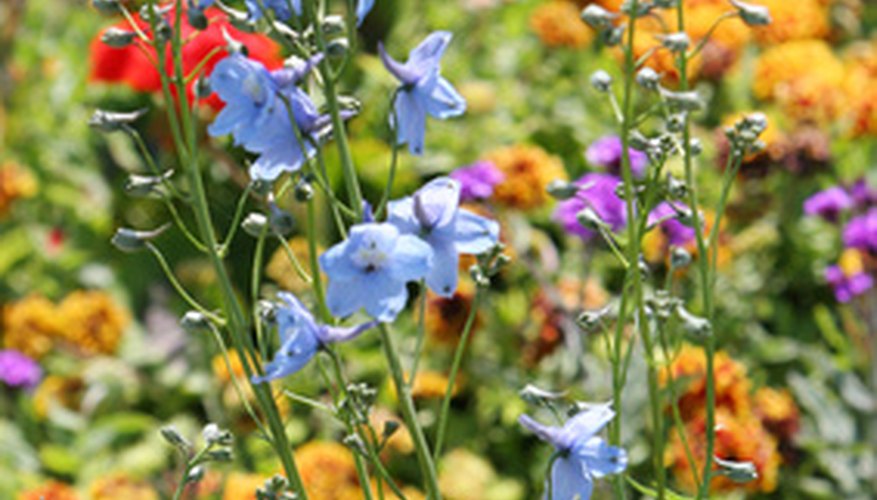 Flower beds come in all shapes, sizes and styles. Formal gardens require clipped and pruned beds, while country gardens feature flowers intermixing with herbs and vegetables. Even the smallest yard has room for at least one flower bed. Start the blooming season in early spring with snow drops and crocus and continue right through fall with asters and chrysanthemums.
Pocket Gardens
Turn a pocket of soil into a tiny flower bed. Look for nooks and crannies that would otherwise be wasted. Keep the plants in proportion. Several smaller plants look better than one big plant. Small plants with small to medium-sized flowers are ideal for pocket gardens. Choose from candytuft, lobelia, alyssum and miniature roses. Miniature roses grow to about 2 feet tall and wide with flowers the size of a quarter.
Color Blend
Flowers come in a huge range of colors. Choose one color, such as blue. Plant the flower bed with the darkest blue flowers at one end gradually getting lighter until the palest blue is reached at the other end of the bed. Using all one type of flower at the same height keeps the focus on the color. Petunias, snapdragons and zinnias come in enough shades of the same color to make this type of bed effective.
Cutting Garden
Side yards are often long and narrow and not used for much of anything. A cutting garden can be tucked in such a space, providing color for the windows looking out on that side of the house as well as bouquets to bring inside. Flowers that are good for cutting have long strong stems and won't wilt after a day or two inside. They also remain open out of the sunlight. African daisies, for example, have long stems, but close up when it gets cloudy--so that's what they'll do inside as well. Roses, of course, make lovely bouquets. Also try larkspur, mallow, Shasta daisies and foxglove.
Exotic Flowers
Plant unfamiliar exotic varieties of flowers in a small flower bed. If the flowers thrive, move them to a larger bed where they can serve as the focal point. If they don't, you won't have bare spots in an otherwise full bed. Keep in mind the hardiness of where you live. No matter how hard you try, if your area gets frost, you won't be able to grow orchids in the garden. You may be able to if you live in a temperate region where the orchids are shaded for part of the day. Other flowers to try are amaryllis, anthurium and ginger flowers.