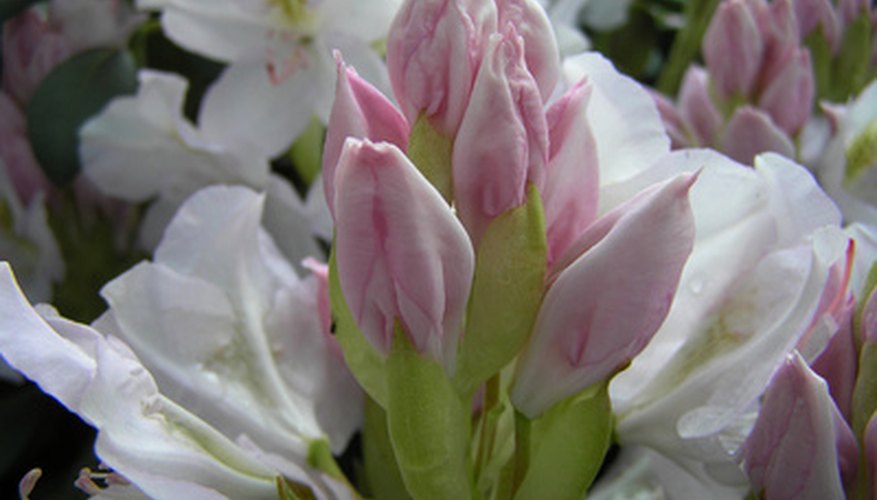 Shrubs have been called the framework of a garden because they pull together all its elements, from flowers to ground cover, trees and even grasses. A shrub exists for every climate and taste, in a variety of shapes, foliage, flowers and texture. Use shrubs to fill in the gaps in your garden, even the shady spots, because there are even shrubs that love the shade. Keep the United States Department of Agriculture hardiness zones in mind when choosing your shrubs.
Northeast
Shade-tolerant shrubs in the Northeast include native plants, such as the mountain maple, inkberry, spicebush and rosebay, according to Janet Marinelli, editor of "The Brooklyn Botanic Garden Gardener's Desk Reference." Other non-native shrubs that do well in this climate and enjoy the shade include the Japanese holly, an evergreen with small, dark green leaves; the Catawba rhododendron, a shrub with glossy leaves and lilac to purple flowers and the dwarf winter hazel, which flowers before the leaves appear.
Southeast and Texas
Shade-loving shrubs for the Southeast, which encompasses hardiness zones seven through 10, including the sweet shrub, Florida anise and Virginia sweetspire, all native plants. Non-native shrubs include the Japanese laurel, a reliable evergreen which reaches a height range of six to 10 feet, according to "America's Garden Book;" the lace-cap hydrangea, also known as mopheads that are available in blue, pink or white and Japonese andromeda, and evergreen with shiny, dark green leaves.
In Texas, native shrubs that don't mind the shade include the American beautyberry, roughleaf dogwood, yaupon holly, the Texas mountain laurel and mountain sage.
Midwest and the Great Plains
Shrubs that do well in the shade and the colder winters of the Midwest and Great Plains include native plants such as the chokeberry, a small tree with arching branches and small white flowers, according to "The Complete Idiot's Guide to Gardening," by Jane O'Connor and Emma Sweeney. Other shrubs that do well include gray dogwood, witch hazel, woodland hydrangea and snowberry.
The West
Shrubs for the damp shade of the Pacific Northwest include the fragrant sarcococca and the viburnum, according to the American Horticultural Society's "Great Plant Guide." Shade-loving shrubs for coastal California include native plants like the evergreen currant, western azalea, red flowering currant the the evergreen huckleberry. Shrubs for the desert Southwest include the India hawthorn, cherry sage and the Texas olive.