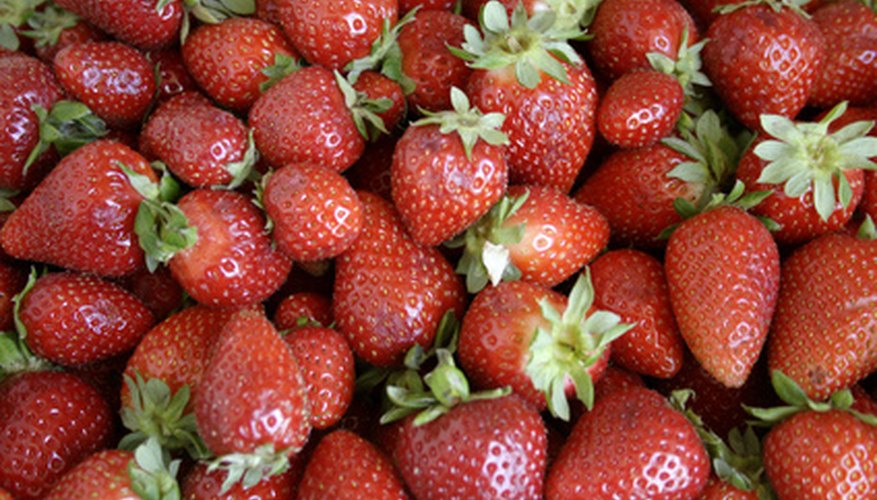 Strawberry plants come in many varieties, but June-bearing species in particular need to be tended to after each growing season. These berries, which are traditionally grown in a matted-row system, need help maintaining their ideal dimensions so that the essential nutrients go back down to the roots and enable the plants to continue producing large, luscious strawberries for the next three to four years. By cutting down your own strawberry plants, you ensure that they can continue producing a bountiful harvest.
Set your mower to its highest level (about 4 inches) and mow the top of your strawberry patch to get rid of the old leaves. Rake up the cut foliage when done.
Cut out any weeds, such as dandelions, that you find in the patch. These other plants compete for the essential nutrients that your berries need to continue thriving.
Use a hoe, cultivator or rototiller to trim the patch row back to 12 to 18 inches wide. This is the ideal measurement for strawberry patches.
Locate the youngest and healthiest strawberry plants and cut down any other growth so that the most vigorous plants have 6 inches of space in every direction. This cushion gives your best plants the growing room they need so that they continue producing well.
Things You Will Need
Mower

Rake

Hoe, cultivator or rototiller
Tip
If the cut strawberry plants are disease free, you can add them to your compost pile.