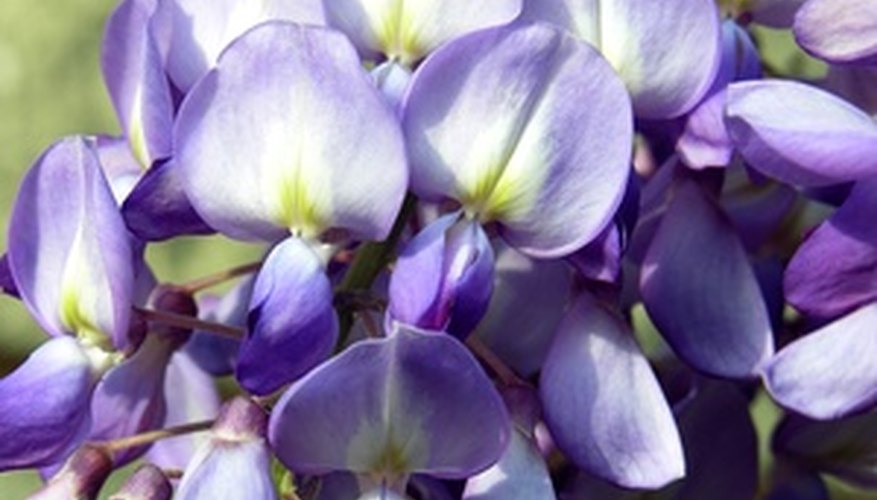 Wisteria is a twining vine that produces beautiful drooping panicles of purple, pink or white flowers in the spring before the leaves appear. Wisteria makes a highly desirable landscape specimen plant. It is rapidly growing and very aggressive, with the ability to girdle and kill full grown trees and invade neighbor's landscapes, so it must be contained by pruning. One method of pruning is to train the vine to grow on a porch railing or trellis. Another method of controlling wisteria is to grow what is known as a wisteria tree.
Locate a place in the garden that receives at least six hours of sunlight each day. Place a sturdy metal pole at least 3 inches in diameter 1 foot into the ground, or slightly deeper if soil is particularly soft. Add fast-drying instant cement in the hole around the pole so the pole cannot move. This pole will be your support for the wisteria tree and needs to last for many years. Once the cement sets or dries around the bottom of the pole, paint the pole with two coats of an anti-rust paint.
Plant the wisteria vine at the bottom of the pole and allow it to grow freely the first year. As it grows, watch to see if the vine grows in a clockwise or counterclockwise position around the pole. Once the direction is established, use garden twine or plastic garden ties to attach the vine to the pole as it grows.
Prune the vine after it reaches the top of the pole support by simply snipping off the top. This allows side branches to form. In late fall, cut the bottom branches and top branches to form the desired tree shape as needed. If you make a mistake, the wisteria will recover as soon as growth begins in early summer. After the blooming period, cut rapidly growing leaders as needed to retain desired shape. Do not prune in winter, or you may decrease bloom production the following spring.
Prune any small wisteria vines that are coming up around the tree. Add a 2 to 3 inch layer of mulch around the root base to discourage any vines from sprouting around the base.