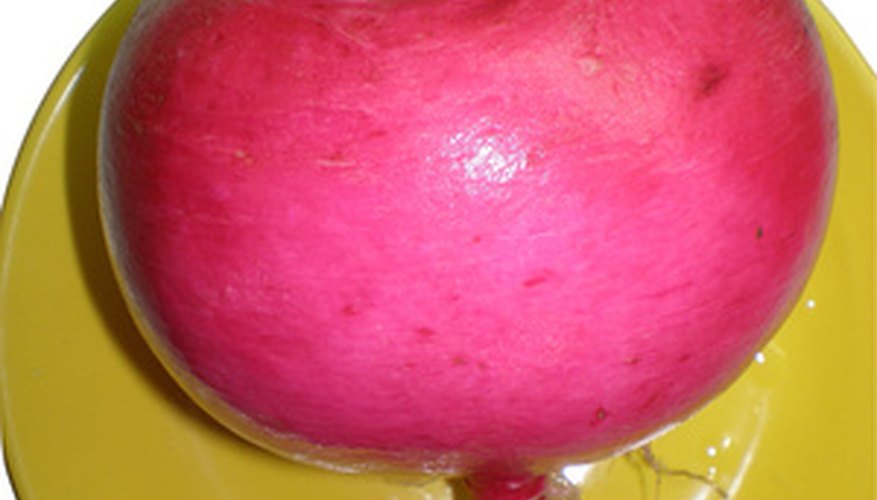 If you routinely skip over turnips in the produce section or ignore turnip seeds in the gardening aisle because you can't imagine how you would prepare them, give turnips a second look. Turnips belong to the cabbage family. When you harvest young, small turnips, you may be surprised at their sweet and tender flavor. Prepare and chop a turnip to use fresh or to cook for a savory accompaniment to a delicious meal.
Place the turnip into the colander and run cool water over it. Use the vegetable brush to scrub the turnip skin thoroughly.
Set the scrubbed turnip on the cutting board and cut the turnip greens from the end of the turnip with the utility knife. Save the greens for a salad or discard them. Cut the roots from the other end of the turnip and discard them.
Peel the turnip with the vegetable peeler, if desired. Peel removal depends on personal preference and the size of the turnip. Young, tender turnips are delicious with the peel but larger turnips have a tougher peel you should remove.
Cut a turnip in half lengthwise from top to bottom and place the halved turnip on the cutting board with the flat side down.
Chop the turnip halves into chunks. Cut the turnips both vertically and horizontally into small pieces. If you are making a stew, cut the turnip into 1-inch pieces. If you are chopping turnips for dipping with other vegetables, cut the turnip into pieces 2 inches long. If you are chopping turnips to add to a casserole, make the turnip pieces ½-inch big.