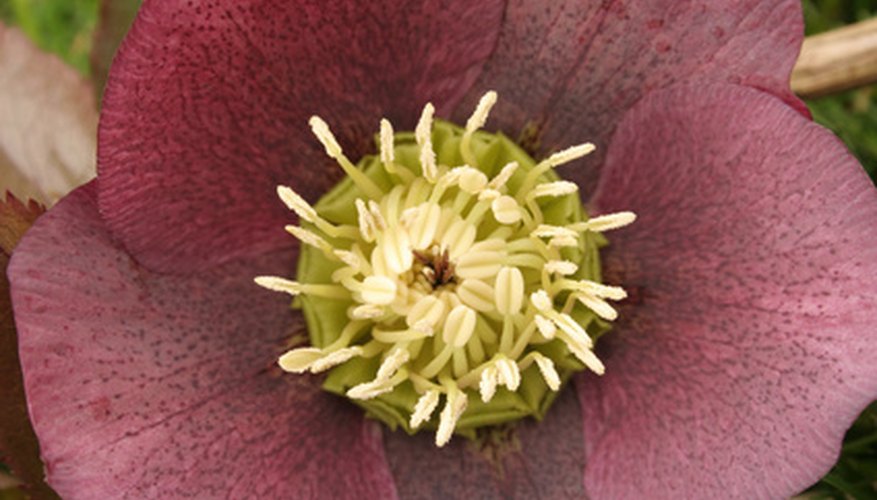 As the snow begins to melt, February-blooming flowers emerge to light up the garden and provide a much-needed respite to winter's dreary landscape. Grown in a wide range of varieties, each with its own distinct color, shape and size, February flowers are oftentimes a sign that spring is on its way. Tucked along a flowerbed or flanking a garden path, winter flowers create a showy garden display.
Snowdrop
Snowdrop (Galanthus nivalis) is a perennial flower with a clumping growth habit that emerges in mid- to late winter, as one of the first signs that spring is approaching. Growing less than 6 inches tall and wide, snowdrop blooms are white and appear as if they are nodding down to the ground. Frost-tolerant, snowdrop are ideal flowers planted along a front flowerbed because of its low-growing habit. Snowdrops have a moderate growth rate and can be divided after they flower to plant in other areas of the garden. Snowdrops prefer full sun to partial shade and well-drained, moist soil to thrive. The USDA hardiness zone for planting is 3 to 8.
Hellebore
Hellebore (Helleborus × hybridus cvs.) is an evergreen perennial that lights up the dreary landscape of February with its bright blooms. As an evergreen flower, they retain their foliage and color all season long. Growing 1 to 3 feet tall and wide, hellebores have a moderate growth rate and clump-like form. Frost-tolerant, hellebores grow in wide range of colors including white, pink, green, yellow and lavender. Tucked along a winter flowerbed, hellebore blooms are bright bursts of color to a winter garden. Hellebores emerges in February and remain vibrant into spring. The bright green, leather-like leaves on the hellebore keep the winter garden looking fresh. Hellebore requires part to full shade and nutrient-rich soil that is well-drained with a medium amount of moisture. To promote a long blooming season, periodically cut back or deadhead the spent blooms as soon as they're visible. The zone for planting is 4 to 9.
Glory of the Snow
Glory-of-the-snow (Chionodoxa luciliae) is a perennial flower that emerges in February. Growing 4 to 6 inches tall, glory-of-the-snow grows in a wide range of colors including, lilac, pink, white and blue. The dark green, upright foliage on glory-of-the-snow holds the small, 6-petaled flowerhead. Nestled along a rock garden or uses a groundcover, glory-of-the-snow creates a classic garden addition, despite its small nature. Glory-of-the-snow requires full sun to part shade to thrive. Versatile, glory-of-the-snow is tolerant to summer drought but requires a moist soil medium during its growing season. The zone for planting is 3 to 7.