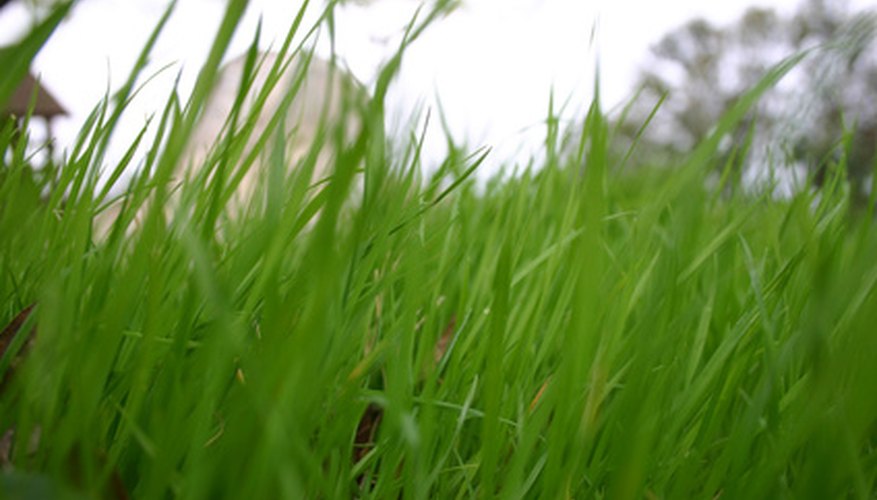 Turf grass species like perennial ryegrass, Kentucky bluegrass and various fescues are just some of the many types of lawn grass grown in Utah. Whatever your lawn composition, all Utah lawns have different needs during the fall than what's needed during the spring or summer. Provide your Utah lawn with the correct seasonal care it needs to keep growing lush and dense.
Mowing
Warm-season turf grass species like zoysia grass begin entering dormancy as the cooler fall weather kicks in. Dormant lawns need no mowing. Lawns made of cool-season grass should continue to be mowed as usual. Utah State University recommends a mowing height of 2 to 4 inches for most of the common turf grass species grown in the state.
Fertilization
Traditionally, lawns require fertilization only during the spring and summer growing season, but a fall fertilizing session can help ready the lawn for the state's winter and ensure a vigorous start in the spring. Utah State University recommends fertilizing in the fall once every three years. Use a fertilizer like a 10-8-6 product that's labeled for use on a lawn, and apply it according to its labeled guidelines since potency varies by product.
Watering
The water needs of Utah's lawns start to fall at the end of summer. In north-central Utah, the Utah Division of Water Services recommends watering the lawn every six days and doesn't recommend watering during October and November. In the rest of Utah, the division suggests watering every five days in September, once a week in October and every 10 days in November. When watering, use enough water to moisten the soil to a depth of 6 to 8 inches. This encourages deep root development and makes the lawn more resistant to drought.
Reseed
If the lawn has bare or thin spots, the beginning of the fall season is the optimal time to reseed it, according to Utah State University. This lets the turf grass recover from the heavier usage encountered in the summer while giving the new grass time to establish itself before winter. Use the same seed mix that was spread to establish the lawn, spreading it directly on the areas that need renewed growth.