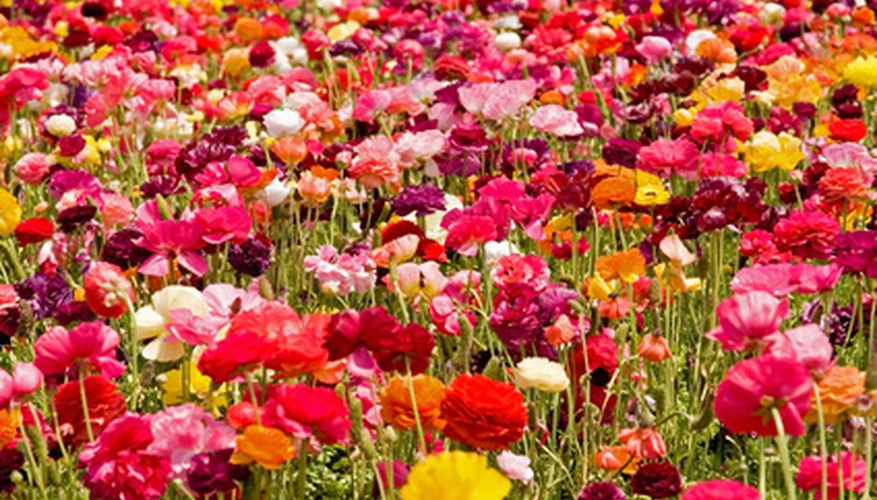 Tecolote ranunculus, also known as Persian buttercup, is a bulbous perennial commonly grown for its ease of care and numerous vibrant, ornamental flowers. The plant blooms during late spring and early summer, producing flowers in shades of red, yellow, orange, pink and white. Native to tropical regions of Africa and Asia, Tecolote ranunculus thrives in zones 8 through 11 and is typically grown as an annual in zones 4 through 7. Though intolerant of heat, frost and drought, the plant blooms throughout most of the United States if provided with proper care.
Plant Tecolote ranunculus during early spring in a location that receives six to eight hours of direct sunlight each day. Spread a 1-inch layer of coarse perlite over the site and use a garden spade to work the material into the soil to boost drainage to adequate levels. Space Tecolote ranunculus plants at least 5 to 7 inches apart.
Water plants once per week during the spring, summer and fall months to keep the growing medium moist at all times. Decrease the frequency of watering to once every two weeks during winter, when active growth has ceased and plants require less water.
Feed once per week during spring and summer using a water-soluble 15-16-17 NPK fertilizer beginning immediately after new growth appears, usually about two weeks after planting. Water immediately after fertilizing to release the nutrients into the soil. Apply at the rate recommended by the manufacturer for the best results.
Remove faded and damaged Tecolote ranunculus flowers whenever possible to improve the visual appearance of the plant and encourage the formation of new blossoms. Pinch off the old flowers near their point of origin to minimize damage and new blooms will follow soon after.
Grow Tecolote ranunculus as an annual in zones 4 through 7. Dig up the bulbs during mid-fall before freezing temperatures occur and store in a brown paper bag at a constant temperature of 50 to 60 degrees F until planting time the following spring. Leave bulbs in the ground and allow them to die back during fall in zones 8 through 11, where they will return the following year.