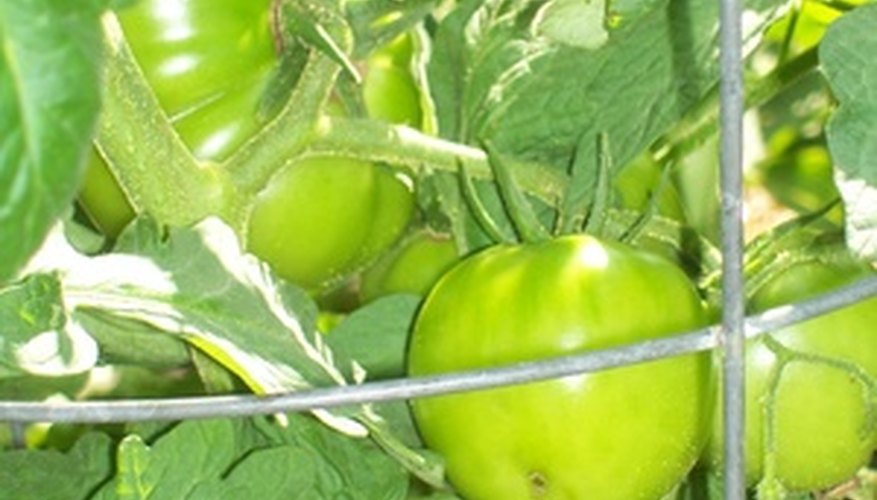 As tomato plants grow large in a home garden throughout the summer, some sort of support system becomes necessary to keep the tomato plants and the growing tomatoes off the ground. Some gardeners settle for purchased tomato cages, while other gardeners prefer homemade tomato cages. A benefit of making your own tomato cages is the strength and durability you can build into your cages.
Unroll the chicken wire near your tomato area to begin to construct the tomato cages. Roll the chicken wire into a column shape around a tomato plant to surround a tomato plant. Overlap the chicken wire where it meets by one 6-inch square and cut off the excess chicken wire with the wire cutters.
Use the plastic ties or 6-inch lengths of 10-gauge wire to attach the chicken wire ends together to secure the column. Secure the column at the top, middle and bottom to hold it together tightly.
Place the chicken wire column down around a tomato plant in the position you want the cage.
Position one stake or rebar piece inside the column at one side to support the tomato cage. Drive the stake or rebar into the ground approximately 1 foot with the hammer. Attach the wire of the tomato cage to the stake or rebar using plastic ties or 6-inch length of wire. Attach the cage to the support stake at two or three spots along the stake.
Add a second stake or rebar piece to the opposite side of the tomato cage and drive it into the ground in the same fashion. Attach the tomato cage to this support stake in the same way as you secured the first stake.