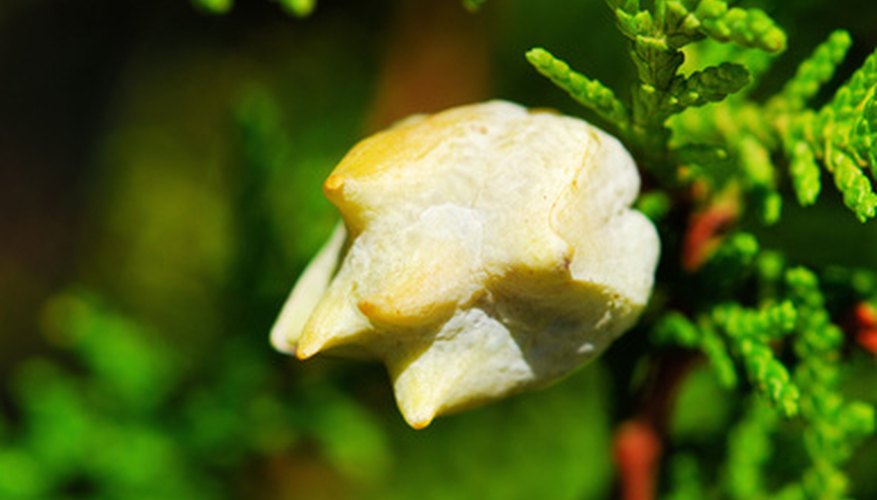 Leyland cypress is a species of evergreen tree popular for its speedy growth habit and dense foliage. According to the University of Florida, Leyland cypress can grow 4 feet in a single year, establishing a itself quickly in a landscape and making it a good screening tree. It reaches 50 feet in height at maturity and can thrive in even poor to middling quality soils. It does not require pruning to establish the branch architecture, nor does it require pruning when mature. Removal of damaged and dead foliage is occasionally needed. Screen trees should be pruned as little as possible in order to preserve their fullness. Pruning for size can become necessary, however, when the tree is planted in a site smaller than its natural form requires.
Prune away dead, discolored, broken, diseased or otherwise problematic branches and foliage. Cut away only the plant tissue that must go, down to where you reach healthy wood. Remove a twig or a small branch down to the parent branch or a large branch down to the parent limb. Place the cut just outside the slightly swollen branch collar. Use loppers for smaller-diameter wood and a pruning saw for larger-diameter wood.
Reduce the spread of the tree when it crowds nearby structures or becomes entangled in nearby trees, preventing good airflow. Prune back the branch tips around the perimeter of the tree with long-blade shears held roughly parallel with the foliage surface. Work around the tree following the natural form of the tree to maintain its symmetricality.
Refrain from topping your Leyland cypress unless you do not wish to preserve the natural shape and intend to prune it frequently to maintain a sheared hedge form. Maintain the top of the tree in a level or rounded top shape with long-blade pruning shears.