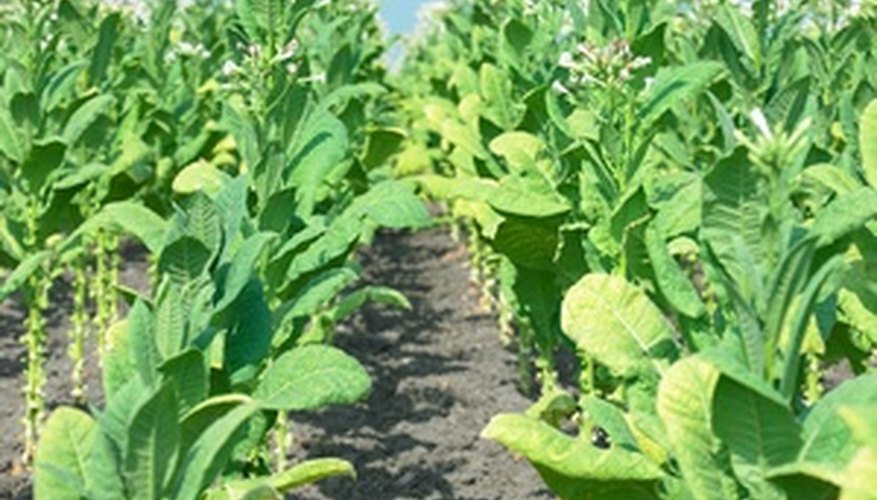 Tobacco is often grown as an ornamental garden plant as well as grown for personal smoking use. Tobacco seed can be difficult to find, as it is rarely sold outside the major growing area in the United States, yet it can be found at a few seed retailers online. Tobacco is not hard to grow, but is best started indoors like many plants and vegetables. Tobacco seeds are tiny and care should be taken not to overplant the growing area.
Fill peat pots or seed starter trays approximately 3/4 full of a good high-quality potting soil.
Water the peat pots or starter trays until the potting soil is moist throughout.
Sprinkle seeds over the moist potting soil, attempting to place two to three seeds in each peat pot or growing section of the tray.
Press the seeds into the moist soil until they are firmly placed in the soil.
Cover the pots or tray loosely with plastic wrap, to create a sort of mini greenhouse environment.
Remove the plastic wrap when the seedlings begin to appear.
Mix tomato fertilizer in a plant mister or spray bottle and lightly spray the seedlings.
Thin the tobacco plants to one plant per pot or section when each plant has two leaves showing. Keep the plant that appears to be the healthiest.
Water often enough to keep the soil moist around the young tobacco seedling. Fertilize according to the manufacturer's directions on the tomato fertilizer.
Transplant the tobacco seedlings when all danger of frost has passed in your area. Tobacco plants prefer loose, sandy soil with a pH balance of around 5.8 and full sun.