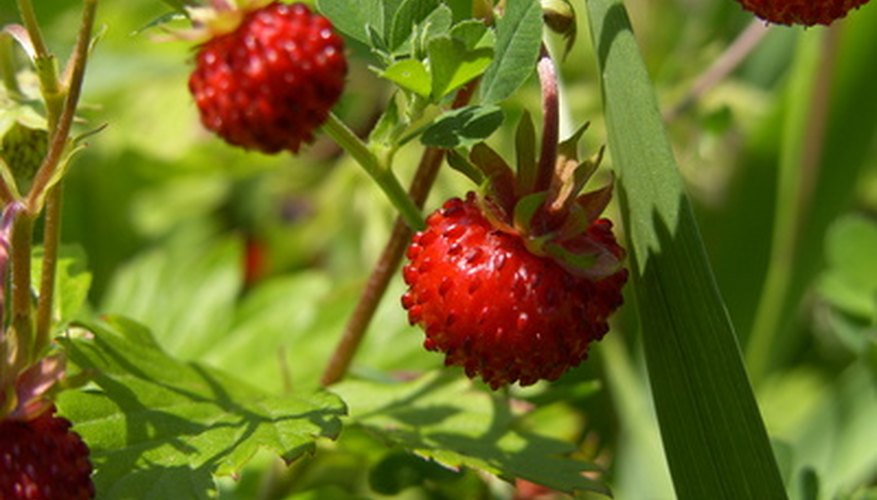 When you grow strawberry plants, you must be continually vigilant about freezing conditions to protect the plants. Because strawberry plants produce the buds for future flowers and strawberries the season before, it is important to keep them insulated from both winter conditions and spring freezes. Straw mulch is effective for protecting strawberry roots from winter temperatures. In the spring, use row covers and mulch if freezing temperatures occur.
Apply 4 to 5 inches of straw or hay in the autumn after the strawberry plants enter the dormancy stage. Do not apply the mulch before the temperature falls below 20 degrees Fahrenheit to ensure the plants are fully dormant. Mound the mulch generously around the strawberry plants and expect that the mulch will settle naturally to leave approximately 2 to 3 inches of straw or hay insulating the strawberry plants.
Watch the strawberry plants the following spring for signs of new growth. When you see new green growth, pull back the mulch from around the strawberry plants and leave the mulch between the strawberry rows. In this way, the mulch will continue to provide weed control and you can move the mulch back over the strawberry plants if freezing temperatures occur.
Replace the mulch around the strawberry plants if you expect freezing weather. The evening before the freezing weather occurs, pull the mulch from between the rows and cover the strawberry foliage with the mulch.
Cover the strawberry plants with row covers after replacing the mulch. Fabric row covers will keep strawberry plants from damage when the temperature drops to as low as 23 degrees Fahrenheit.
Remove the row covers the following morning after the sun rises and pull the mulch back away from the plants to between the rows once again.