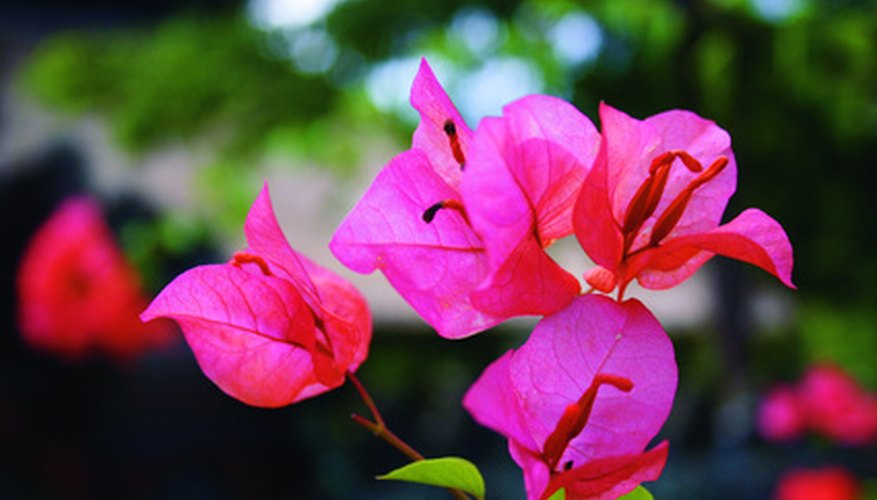 Gardeners living in regions where it freezes during the winter often enjoy the beauty of a bougainvillea plant throughout the summer. Once autumn arrives, protect your beautiful plant from harsh winter weather. Bring your bougainvillea in for the winter and keep it alive in a sunny window. Watch the plant carefully to see how it responds to the indoor environment and adapt your care accordingly.
Move the bougainvillea indoors when the overnight temperature begins to fall below 50 degrees F.
Place the plant in a sunny window with interior temperatures between 60 and 70 during the day. Overnight temperatures near 50 would be ideal, but this is not mandatory. If you do not have a sunny window, place the bougainvillea plant under a grow light and keep it on for 12 hours each day.
Enhance the humidity level around the bougainvillea plant by spraying the spray bottle near the plant once or twice each day. Alternatively, fill the shallow dish with rocks and add water to just below the tops of the rocks. Set the bougainvillea container on the rocks in the dish to add moisture to the air around the plant.
Increase air circulation around the bougainvillea plant by running the fan on low for one to two hours each day. Adequate air circulation will keep the plants healthy and prevent some insect infestations.
Water the bougainvillea plants when the soil dries. Add water only to lightly moisten the soil and no more. Bougainvillea plants prefer dry conditions.
Expect that the bougainvillea may drop leaves in response to you moving it indoors. This is a natural reaction. If the bougainvillea continues to drop leaves to the point of losing them all, stop watering the plant and allow it to remain dormant throughout the winter. Move it into a dark location above freezing until the following spring.
Trim the bougainvillea shrub once or twice throughout the winter if the plant continues to grow actively. Remove the top 2 to 3 inches of growth around the entire plant to shape it. This will ensure the bougainvillea does not become overgrown and leggy and will also keep the foliage in proper proportion to the roots below the soil.
Move the bougainvillea back outside when the overnight temperatures stay above 50 degrees. Resume the regular care you provide the bougainvillea, with watering, trimming and fertilizing.
Things You Will Need
Grow light (optional)

Spray bottle filled with water

Shallow dish

Rocks

Oscillating fan

Pruning shears