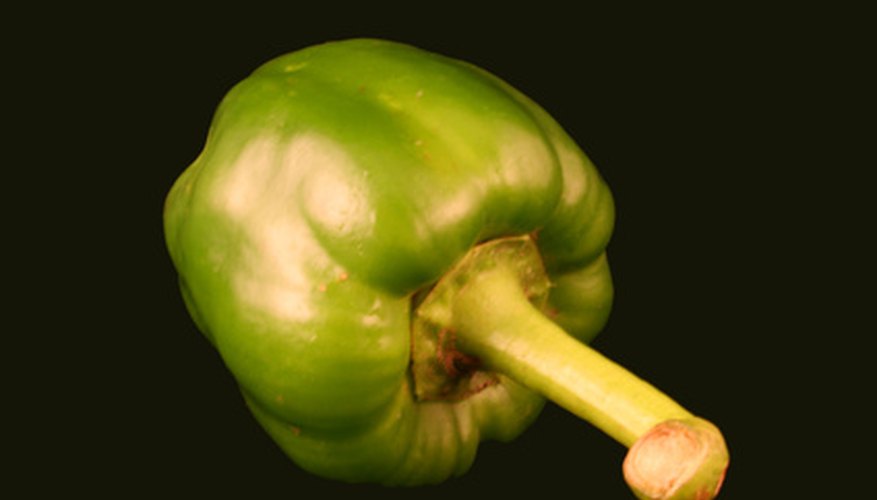 Save yourself some money this season by growing your green pepper plants from seeds. Peppers are a little on the slow side when it comes to sprouting and seedling growth. Germinating them indoors will give you a bit of a head start, and you'll have control over the growing conditions. You'll save a little more money by repurposing ordinary household items for your project, and your seeds will germinate just fine. Start green pepper seeds about 8 weeks before the last expected frost date for your area.
Cut the top off of an empty cardboard egg carton to make a seed starting flat. Use a toothpick to poke 3 holes in the bottom of each cell. Fill the cells up to ¼ inch from their tops with soilless seed-starting mix. Set the seed flat in a shallow pan of warm water until the surface of the seed mix feels moist to your touch. Take the flat out of the water and allow it to drain for about 2 hours.
Make a ¼ inch deep hole in the center of the seed mix in each cell. Sow a green pepper seed in each hole and cover the seeds with milled sphagnum moss. This will help prevent damping off disease after your seedlings sprout.
Set your green pepper seed flat in a warm spot out of direct sun. The preferred temperature for successful germination is around 75 to 80 degrees F. The top of your refrigerator or above a hot water heater are good choices. The plants will sprout in about 10 days.
Check the seed starting medium every day and water as necessary. Don't allow your seeds to dry out, but the medium shouldn't be soggy or wet.
Move the flat to a warm, sunny spot near a window when the pepper seedlings sprout. Keep the planting medium evenly moist but not wet.
Cut the cells of the egg carton apart when your green pepper seedlings are about 4 to 5 inches tall. Poke 4 to 6 holes in the bottom of unwaxed paper cups and plant the young peppers in them individually with sterile potting soil. Leave the paper egg carton cells intact around the roots of the seedlings to avoid disturbing tender roots. The paper will soon degrade into the soil. The plants can remain in the paper cups until it's safe to plant them outdoors.
Things You Will Need
Empty cardboard egg carton

Toothpicks

Soilless seed-starting mix

Milled sphagnum moss

Sterile potting soil

Unwaxed paper cups
Tip
You probably won't need as many pepper plants as there are seeds in the packet. Just keep them cool and dry and they'll remain viable for several years.