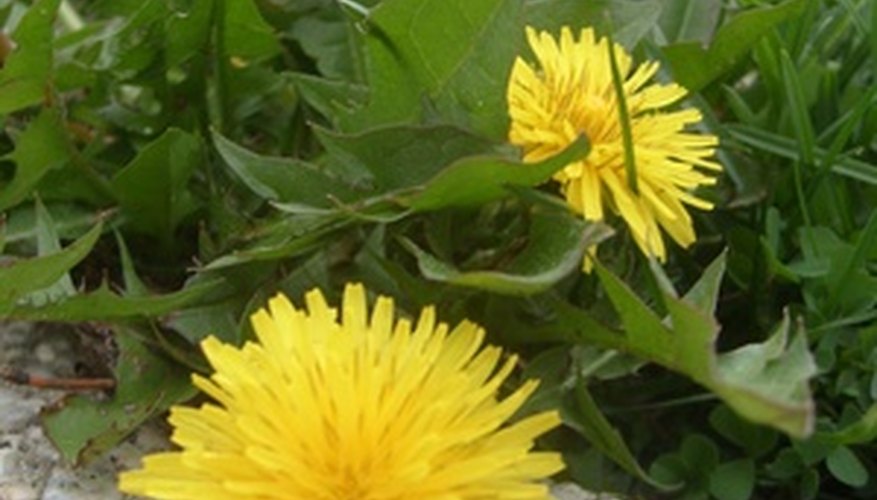 Sidewalk Dandelions image by Boris Ermant from Fotolia.com
Weed Eater is both a brand name and a generic name for a type of grass cutter that uses a monofilament line attached to a rotating head and turning at a high velocity to cut grass and weeds. A weed eater's rotating head is filled with a spool of line that is gradually released as the line's end wears away. But if the line is improperly wound, it will not feed out of the rotating head. The user must then remove the spool and rewind the line in order to make the spool work properly.
Disconnect the spark plug by pulling the spark plug boot from the back of the plug to prevent accidental injury.
Lay the Weed Eater on a flat surface with the cutting head facing upward to work on the machine.
Grasp the rotating cutting head in one hand and the tap button with the other hand. Pull the tap button outward to pull it off the cutting head.
Lay the tap button aside. Reach into the cutting head and grasp the spool. Pull the spool outward gently with your free hand.
Pull the monofilament line end free of the eyelets in the rotating head. Set the Weed Eater aside and gently unwind the line.
Clean the line, cutting head, tap button and spool with a clean cloth and inspect for damage.
Measure the line to make sure that it is not longer than 20 feet. If the line is too long, cut it so that it does not exceed 20 feet. Cut the worn ends of the line to make it easier to work with.
Insert an end of the line 1/2 inch into the small hole on the inside of the spool.
Wind the line evenly and tightly onto the spool in the direction indicated by the arrow printed on the spool.
Push the line into the notch, leaving 5 inches of line on the other side of the notch at the end. Re-thread this line into the eyelet and line up the notch with the eyelet. Push the spool back into the cutting head until it snaps in place. Press the tap button back onto the cutting head.
Pull on the line outside of the cutting head to release the line from the notch.
Warning
Read the Weed Eater's manual before working on the machine to become familiar with all safety warnings as well as the parts of a Weed Eater.