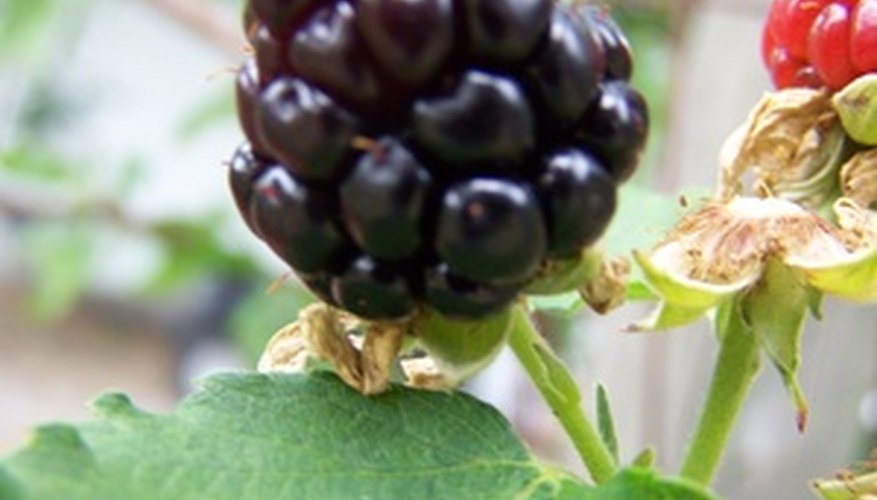 When choosing to grow blackberries, consider your planting location to start your plants off right. Choose a sunny spot with good drainage where tomatoes, potatoes, eggplant, peppers and other berries have not been grown in the last three years. These plants can transmit diseases harmful to blackberry plants. If the soil where plants are to be placed is less than perfect--filled with sand or clay--amend soil with a layer of compost.
Till the soil in the chosen planting location. Use a rake or rototiller to loosen the soil. Work in rows, digging the tines in the soil until the soil is loosened to a depth of eight inches. Once a row is completed, turn around and till to the opposite end of the row.
Remove all weeds and rocks by hand. Sort through the soil, disposing of rocks and weeds in a trash can.
Shovel a 2 to 3 inch layer of compost on top of the soil.
Till the soil again, working in rows to incorporate the compost into the soil. Till the compost into the first 2 to 3 inches until the compost is completely mixed into the soil.
Dig a hole for each blackberry bush to be planted. Dig holes deep enough for the roots and one inch deeper in the soil than the plants were placed in their original growing containers. Holes should be spaced three feet apart in rows, with eight feet between rows for upright varieties; trailing types should be planted 5 to 8 feet apart with 6 to 10 feet between rows.
Set each blackberry plant in a hole, spreading the roots and packing soil around the base of the plant.
Water the plants well. Spray a gentle stream of water from a hose around the base of the plant until the soil is well saturated.