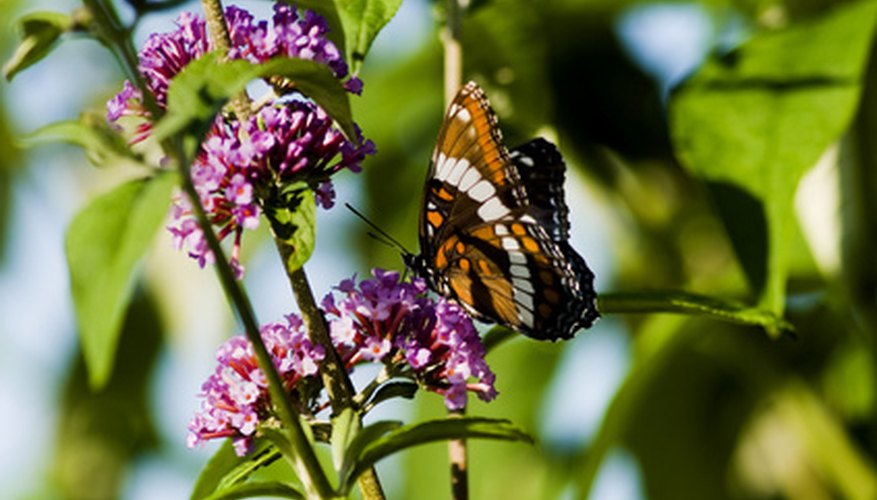 Not much incites a Michigan gardeners' ire more than deer eating their healthy plants. White-tailed deer live in every Michigan county and are good habitat adapters—particularly if their food sources are diminishing. Home gardens and landscaped areas in Michigan offer tasty offerings such as ripe tomatoes and sweet flowers for these herbivores, which can eat between five and nine pounds per day. Plants labeled as "deer resistant" may still get some nibbles, but you can grow some plants in Michigan that deer don't seem to find nearly as palatable.
Daffodils
Daffodil foliage and bulbs are poisonous to deer and other animals, making them great spring flowers to have in Michigan landscapes. Gardeners can grow them as perennials in USDA hardiness zone 4 and higher in well-drained soil that is moderately fertile, and in sunny spots. Planting should occur in the fall, when the ground has cooled. Plants enjoy plenty of water when they pop up in the spring. Do not trim the foliage until it starts to yellow.
Mint
People enjoy this herb for the cool, sharp flavor it can lend when used in tea and desserts, or chewed on its own, but deer don't have the same preference. This hardy perennial grows easily in deep, rich and moist soil and prefers full sun. But it can become invasive and encroach on nearby plants, so Michigan gardeners should sink containers into the ground to keep it in check. Peppermint can grow in all parts of Michigan, including the Upper Peninsula, while spearmint is hardy to zone 4 and higher.
Peonies
Peonies grow as perennials in all parts of Michigan. Favored for their large, fragrant blooms, these smaller shrubs grow for decades in well-drained soil of all types and in full sun. They reach up to 4 feet tall and fall into five classes according to their blooms, which include several hues.
Butterfly Bush
Grown as a perennial shrub in zones 5 and higher in Michigan, butterfly bush is a favorite of gardeners not only because deer usually keep away from it but because it attracts butterflies, which draw nectar from its blooms. Flowers, which bloom on new wood, grow on small spikes and are blue, white and purple. Plants can grow up to 6 feet tall in moist, well-drained soil and in full or part sun. They die back in winter; prune the dead wood in early spring.
Hyssop
Hyssop grows up to 2 feet high and can grow in any Michigan landscape. This hardy perennial grows best in light, dry soil that drains well and in areas that receive full sun. Its small, light purple flowers and minty leaves are used in potpourris and perfumes. Along with being unsavory to deer, hyssop also repels flea beetles and cabbage moths.