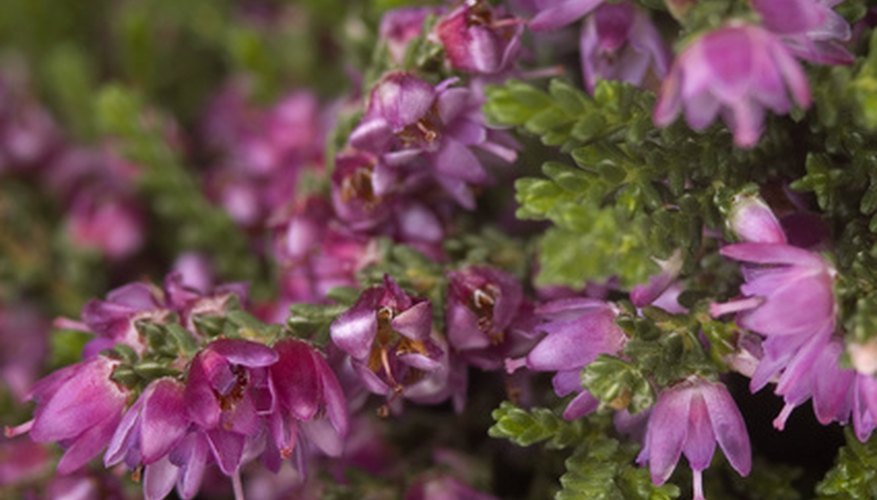 The Mexican heather plant's scientific name is Cuphea hyssopifolia. Mexican heather is often referred to as "false heather," because it is a member of the Lythraceae family. Native to Guatemala and Mexico, this broadleaf evergreen grows best in well-draining soil either inside the home as a houseplant or outside as part of the landscape. Mexican heather comes with purple, white, pink and red blossoms. These plants bloom for months in areas grown as landscaping. It can continuously bloom as an indoor plant or even as an outside plant in some areas of the country, such as Phoenix. Care of Mexican heather plants is minimal.
Provide a good location for any Mexican heather plants growing in pots, boxes or containers. Place any plants grown inside or on patios in areas with direct sun to light shade.
Supply regular watering to the Mexican heather plants, according to the growing location. Water outside plants with 1-inch of water weekly during the growing season, if rainfall is less. Water potted plants when top 1- to 2-inches of soil is dry.
Prune with shears or pinch Mexican heather plants as needed to shape. This is not necessary except to remove any damaged areas or to contain the growth of the plant.
Add organic fertilizer to the soil when planting a Mexican heather plant. Apply additional fertilizer throughout the growing season, as directed.
Cover the area around any Mexican heather plants growing outside with 2- to 3-inches of mulch. Keep the mulch away from the stem of the plant. The mulch will retain moisture in the soil and prevent any weeds from growing in the area.
Things You Will Need
Water

Pruning shears (optional)

Fertilizer

Mulch (optional)

Shovel (optional)