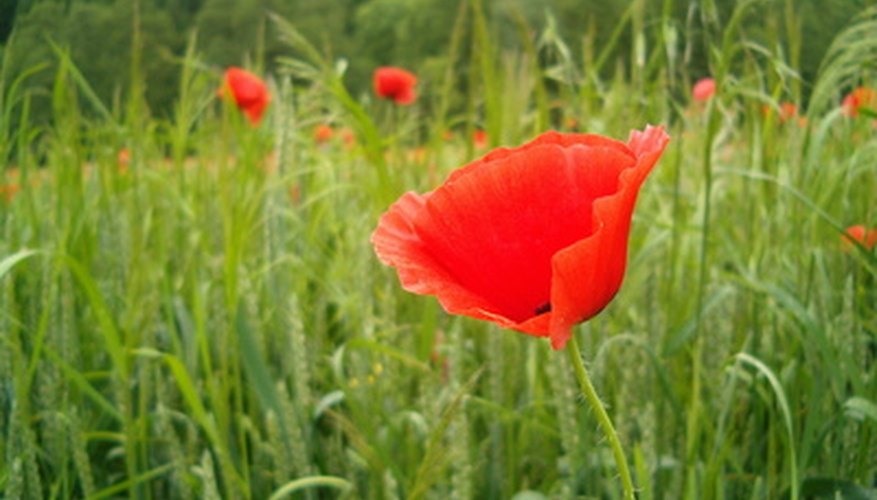 Oriental poppies are a beautiful addition to nearly any garden with a variety of colors and soft bubble-like blooms, few gardeners can resist growing them. If you or a friend already have some, and you want to collect seeds to grow some more then you'll want to save oriental poppy seed pods when they are ready. If you keep a close eye on the blooming poppies, then you'll be sure to harvest at just the right time.
Wait for the poppies to bloom and give them time for the seed heads to begin to dry out, dropping petals as it turns brown. If there are several plants to choose from, try to pick the ones which have grown the best and have been mostly free of pests and disease.
Use a knife or scissors to cut the stems of the poppy 3 to 4 inches below the pod and hold the pod upside down in a paper bag. Collect as many pods as you'd like.
Bring the bag and pods indoors and hold the stems together, making adjustments to keep the pods staggered so they aren't all touching. Wrap a rubber band around the stems to hold the pods in place while still keeping them inside the bag.
Loop a piece of string around the top of the bag multiple times to hold it around the pods and use the ends of the string to hang the bag and pods in a warm, dry area.
Leave the pods to dry for three to four weeks. When fully dry you can shake the seeds out into the bag for collection or store the intact pods in a plastic container with a tight lid to keep moisture out.