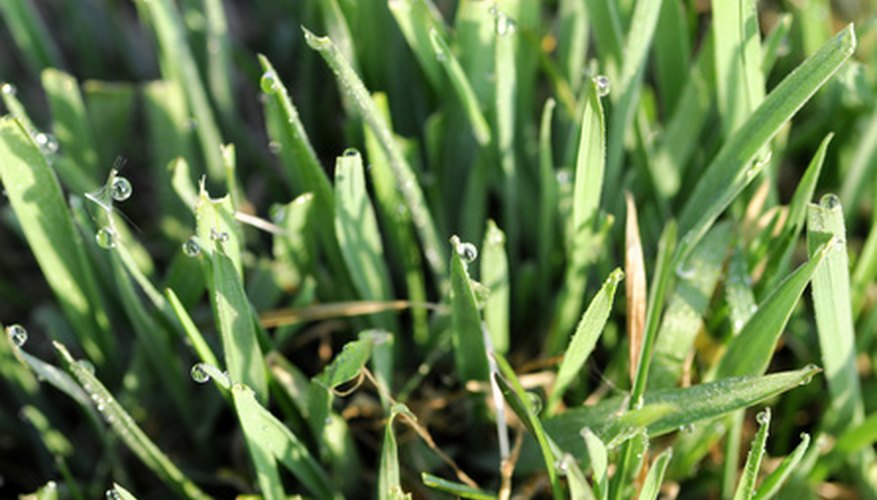 Keeping a lush, green yard all year in Texas is a difficult task. Texas is known for clay soil, which has poor drainage and dries to rock-hard consistency in summer. In addition, parts of Texas soar over 100 degrees in late summer and early fall. The key to keeping grass green in Texas is to select a summer-hearty grass and keep it well watered in the hottest parts of the year to prevent heat stress.
Have your soil tested three months before seeding your lawn. A soil test can help you determine if your soil is deficient in nutrients that your lawn will need to stay healthy, as well as recommending soil amendments to improve the clay structure of your lawn and adjusting the pH for optimal nutrient uptake. Texas A&M maintains a soil testing facility as a part of their community and continuing education program. You can submit a soil sample through your local county extension agency. Contact your extension agent for instructions on taking soil samples, packaging your sample and fees that apply.
Purchase soil amendments based on the recommendations made in the test from step 1. The amendments most commonly recommended for soil include organic materials such as compost and manure, gypsum or cotton stalks and hulls to break up the soil, a nitrogen-rich fertilizer (20-10-10), lime to raise the pH of soil or sulfur to lower the soil pH.
Break up your soil with a disk plow and a yard tractor. Distribute your soil amendments with a broadcast spreader, and mix them into the soil with the disk plow. Re-grade the soil with a tractor-pulled scraper or rake. If you do not already own this equipment, it can be rented.
Water your lawn and allow the amendments to sit and mix with the soil for up to three months. Cover the soil with straw to prevent erosion.
Install a drip-irrigation sprinkler system over your soil before laying sod by digging trenches into the soil and laying the pipe system throughout the yard. Drip irrigation systems add just enough water to the roots of the grass to water it without losing water to evaporation the way traditional sprinkler systems do.
Select sod made of a heat-resistant grass such as Zoysia, St. Augustine or Bermuda. Starting at the straight edge of a lawn, such as the street or a driveway, lay your sod in staggered rows working outward. Roll over the grass with a sod roller to force the roots of the sod into contact with the soil. Keep the grass saturated with frequent watering for the first 14 days to allow roots to develop.
Taper off watering until you water only 1 inch every 7 days. Increase the frequency of watering during summer heat.