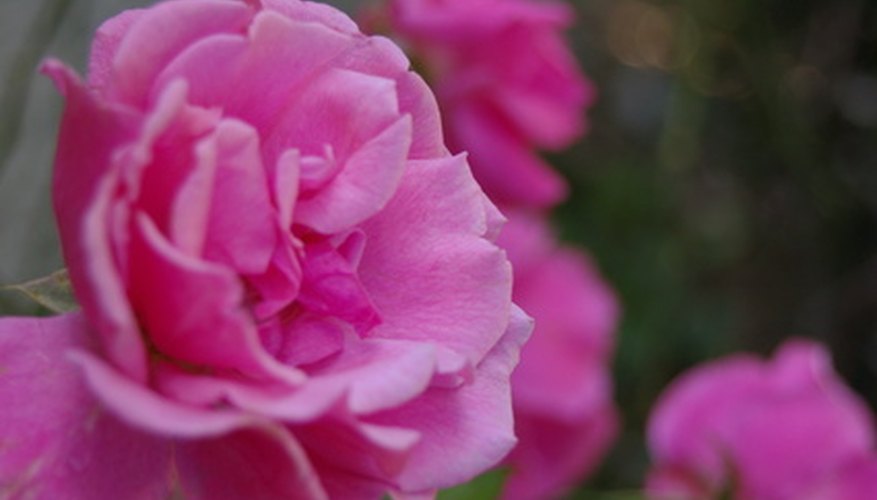 It is no secret why roses are so often highlighted in gardens. As symbols of passion, love and beauty for centuries, they continue to spark enjoyment in those who see and smell them. Thousands of cultivars exist in all sizes, shapes, colors and scents, offering endless gardening design ideas. Some basic concepts can help gardeners with creating a space that suits them.
Simple Design
Follow a simple design. Beginning rose gardeners, particularly those dreaming big, will particularly benefit from this suggestion. A basic square, located in an area that boasts of well-drained soil and full sun, will offer the same good growing potential for plants as a more elaborate design featuring different ground levels, for instance.
Functional Elements
Consider including paths, seating or stepping stones in the garden. These will help you and visitors enjoy it more and offer ease for picking and caring for plants. Functional additions can also enhance the beauty of a garden with their own form and design. Stepping stones, for instance, can be embellished with mosaic tiles and a bench can sport a complementary color.
Vertical Elements
Vertical visual appeal is always a striking feature for any garden. Install a trellis, arbor or simple arch at the garden's entryway, or make it a focal point in another area. Plant varieties of climbing roses that will grow up and over the structure. Children and adults alike thrill at the idea of walking under flowers as well as through them.
Color Arrangements
Choose plants with bloom colors you enjoy and consider what they will look like next to roses that may bloom in a different color. Bright hues like orange and red can sometimes look out of place next to softer colors, so selection and grouping is important. When in doubt, choose similar colors or soft pastels. Some gardeners, for instance, only grow pink roses.
Variety
Grow different types of roses that you enjoy. Mix old fashioned varieties with hybrids, and those featuring large flowers with miniature types. Include plants other than roses that will enhance roses' beauty without taking from them, and may also serve other functions. Daylilies and delphinium, for instance, can provide slender height and different flower shapes. Bushes, planted along borders, will keep plants contained.
Inspiration Sources
Do not just peruse books, magazines and websites for ideas. Go straight to authoritative sources by visiting actual gardens that offer great examples of different designs, what it takes to keep them maintained, and what they can offer visitors. The White House is not the only place that has a rose garden. Thousands exist across the United States and other parts of the world. The Rose Gardens in Berkeley, California, for instance, include 3,000 bushes and 250 varieties. The main area is designed like an amphitheater, and it overlooks the San Francisco Bay. Richmond, Indiana's All American Rose Selection garden includes walkways made of bricks from old homes in the city and an impressive German rose collection.