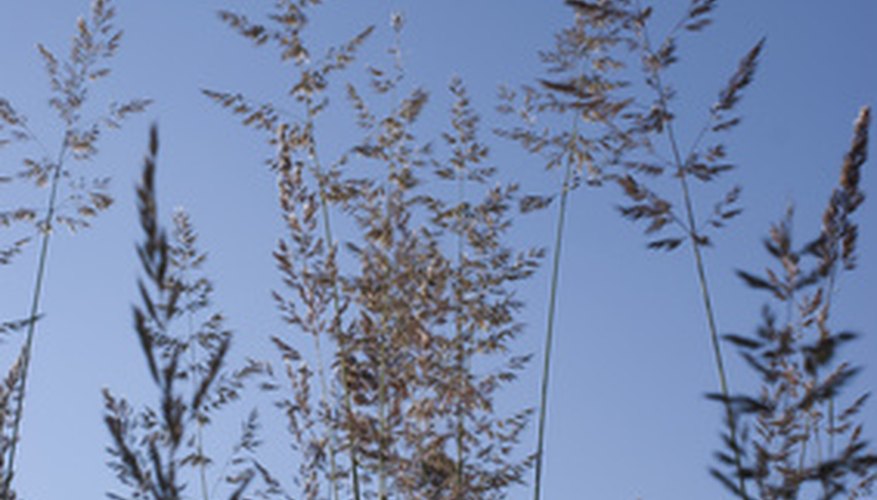 Although Pennsylvania's rivers, forests and Pocono Mountains may be far from America's vast prairies, several prairie grass species are at home in the Keystone State's soil. Several of these native grasses are effective ornamental additions to home landscapes. Eye-catching garden features, many of them also provide seeds, forage and shelter for birds and wildlife. They provide interesting leaf texture, color and delicate seedheads to a landscape's profile. They also make excellent backgrounds for native annuals and perennials.
Switchgrass
Switchgrass (Panicum virgatum) grows wild on America's bluffs and prairies, and in open woods from Maine to Arizona. A warm-season grass at its peak from June to August, switchgrass forms 3 to 6 foot high clumps. The curly bright green leaves on the stems become yellow--occasionally streaked with deep red--in the fall. It has open, reddish-purple seed heads in August and September. According to botanist Ed Dix of the Pennsylvania Bureau of Forestry, switchgrass cultivars are available for erosion control, livestock pasture and wildlife food. Plant deer-resistant switchgrass in sun to partial shade. It tolerates dry or moist sand, loam, clay or limestone-rich soils.
Big Bluestem
Big Bluestem (Andropogon gerardii) is also called turkey foot because of its three-branched seedheads. A major prairie grass throughout the central plains, it's also common along Pennsylvania's roadsides, streams and moist grasslands. A warm-weather grass, it blooms between August and November. Big bluestem stands 4 to 8 feet high, with greenish-blue leaves that become orange and copper in autumn and winter. Seedpods are red, blue or brown. Deep-rooted and drought-tolerant big bluestem prefers acidic sand, loam or clay soil and full sun to partial shade. Excessive fertilizer, water or shade may cause stems of garden plantings to fall over. More than 20 bird species use deer-resistant big bluestem for food and nesting.
Sideoats Grama
A bunchy grass up to 3 feet tall, perennial sideoats grama (Bouteloua curtipendula) is common in central and southeastern Pennsylvania. Its flowers, small reddish-purple spikes on one side of the stems, open to reveal orange anthers between August and November. Sideoats grama's thin basal leaves may provide purple or red autumn color. Because this grass stays short through the spring, it's effective with spring-blooming wildflowers. The seeds feed a variety of birds. Plant sideoats grama in sun to partial shade. It does well in medium, well-drained limestone-rich sand, loam or clay.