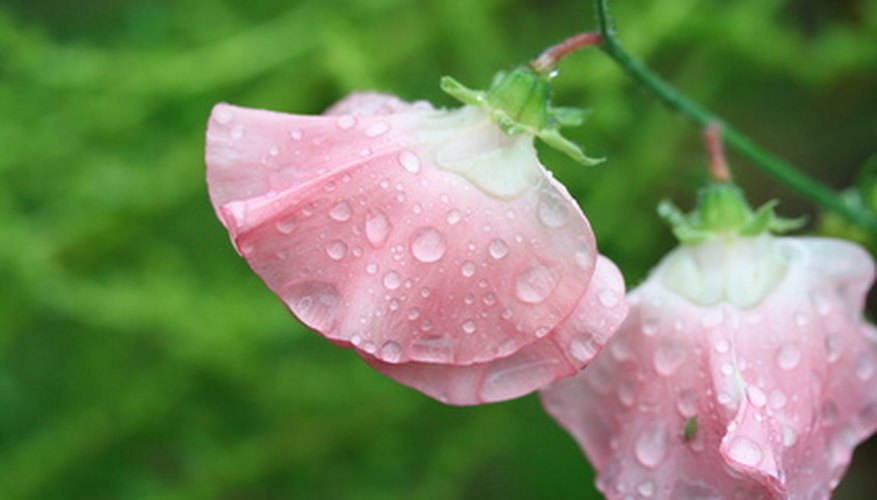 Annual plants successfully grow in Indiana's climate, which sees harsh winters and fluctuating spring temperatures from Canadian fronts that sweep down from the northwest. The weather makes growing certain plants as perennials challenging, but these same plants many thrive as annuals during the warm summers. Lake Michigan to the north and the hilly southern Appalachian Mountain areas to the south also influence the Hoosier State's weather and encourage annual plant growth.
Impatiens
Indiana gardeners and those who enjoy growing potted plants favor impatiens. They flourish in partially shaded areas, like porches and south-facing plots. Their colors range from white to hot pink, and in Indiana they bloom from June through October. If kept outside, they grow as annuals, but can be brought inside during the winter and will continue blooming. They require regular watering and moderately fertile, well-drained soil.
Sweet Peas
Sweet peas feature delicate but vibrant flowers that bloom in June and July in Indiana. They come in white, purple and lavender, and are often used in bouquets. This vining plant grows best if sowed in February or March in deep, rich soil and partial shade. Sweet peas like growing in Indiana soil that stays consistently moist but not waterlogged. They can grow up to 2 feet tall.
Annual Phlox
Purdue University Cooperative Extension Service states that annual flox is one of the easiest annual flowers to cultivate in Indiana. It does well in beds and as edgings in areas that receive full sun or partial shade. Blooms that are 1 inch across appear in July, August and September and come in most hues but blue. Plants reach up to 20 inches tall.
Basil
Basil, like certain other herbs, is a Mediterranean native that needs warmth to thrive. It also needs as much sunlight as possible, at least 10 hours per day, for optimal growth. Plants will do well in warm temperatures and even dry conditions, once established, but younger seeds and transplanted seedlings need nurturing. Certain varieties can grow up to 2 ½ feet tall. The growing tips should be frequently pinched to encourage more growth throughout the summer. Fertilizing should be done sparingly. Different varieties grow in different colors and feature slightly different flavors. Leaves can be eaten fresh in dishes like salads or dried for use in lasagna and other meals.
Tomatoes
Tomatoes are native to South America, making them annual growers in Indiana. Varieties vary in shape, size, taste and color, but all enjoy growing in deep, well-drained, loamy soil that is slightly acidic. They are warm season plants that do not tolerate cold temperatures very well, so planting after the danger of frost has passed is essential. Tomatoes grow best in spots that receive full sunlight and need to be staked or caged to prevent fruit from weighing down stems and branches. They need 1 to 1 ½ inches of water per week to ensure good growth and harvest.