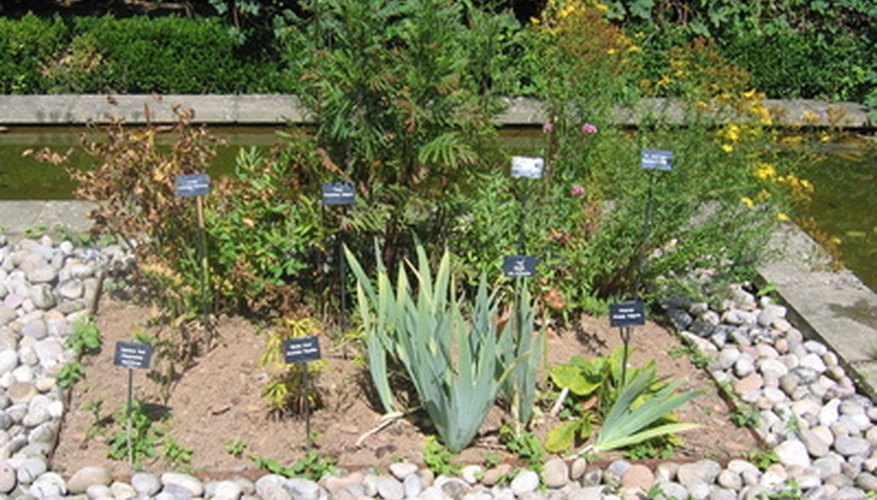 A rooftop garden is an ideal choice for gardening if you live in a place that is devoid of a yard, such as a high-rise, condominium, loft or apartment complex. A rooftop garden can improve air quality and reduce CO2 (carbon dioxide) emissions, delay storm water runoff, increase habitat for birds and insulate buildings.
Waterproofing
Apply waterproofing to the planting areas to prevent water and roots from damaging the roof. Add a base layer, roof membrane (pond liner or butyl liner), filter sheet, moisture blanket and drainage layer to the existing surface to provide sound waterproofing. Allow the sheets to overlap each other to prevent leakage. Check that the drainage of your roof is working properly to ensure that it has no clogs. A clogged drainage may cause water to overflow, which can damage your roof.
Preparing Planting Areas
Construct your planting beds with edging or framing; this will keep soils from washing away during heavy rains. Construct planting beds with frames that are at least 4 inches higher than the topsoil. For example, if you are adding 20 inches of soil, the frame should be 24 inches tall. Use the planting bed for smaller plants such as vegetables and flowers that do not grow huge, invasive roots. Using containers such as pots and planters is ideal for trees and plants with bigger or invasive roots. Add windbreaks made of durable fences and trellises to prevent strong winds from damaging the plants.
Adding Irrigation
Install a water storage system or an automatic watering system to make watering of your rooftop garden easier. Opt for drip irrigation systems instead of sprinklers to help save water by limiting the flow of water. Another way to save time and money is by creating a water reservoir to collect rainwater.
Plants
Choose plants that can withstand the harsh elements. Drought-tolerant plants are ideal for rooftop gardening because they can last a long time without daily watering. Higher rooftop gardens have longer exposures to direct sunlight than lower rooftop gardens; therefore, choosing plants that will tolerate extreme heat is advisable. For rooftops surrounded by taller buildings that block most of the direct sunlight, shade-loving plants are preferable.
Mosses, sedum, ornamental grasses, wild flowers, palm trees, bamboos and agaves are examples of plants that do well on rooftops. For a high-rise rooftop, plants that grow in high-altitude such as sumac, shrub juniper, asters and yarrow will do well.