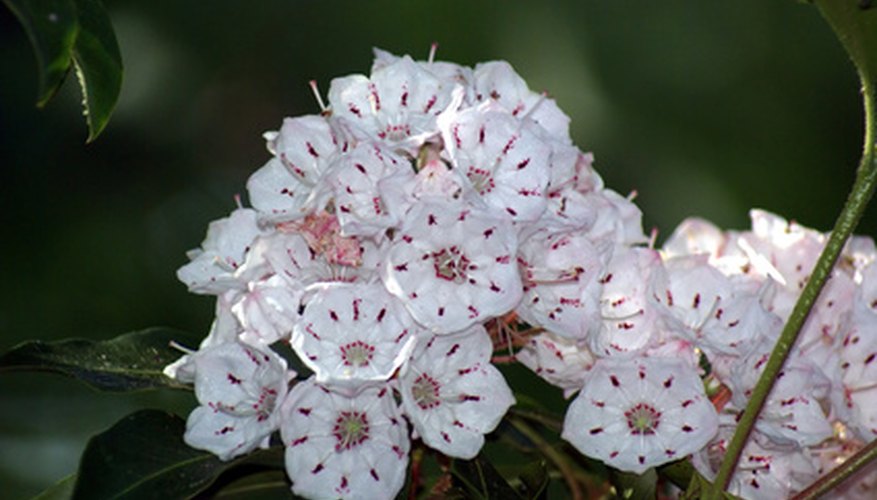 Most plants, notes Clemson University, prefer slightly acidic soil with a pH between 5.8 and 7.0. Some popular plants including rhododendrons, azaleas, oak trees and blueberries like even more acidic soil. After testing its pH with a kit from your garden store, amend your soil if necessary with a fertilizer for acid-loving plants. Re-test acidified soil every three years, says the Purdue University Cooperative Extension, because alkaline water may have raised its pH level.
Mountain Laurel
Mountain laurel (Kalmia latifolia) is a perennial evergreen shrub found wild in the Eastern United States' woodlands and pastures and on cool hillsides. Spectacular blooms and year-round appeal make mountain laurel a fixture in many public parks from the Florida panhandle to Maine. In June and July, the 12-to-20-foot-high shrub bears dense, flat clusters of white or pink bell-shaped flowers with maroon-mottled throats. They make a striking contrast with the plant's large, glossy leaves.
Pale green in spring, the leaves deepen to dark green during the blooming season and purple in autumn. Plant mountain laurel in part shade and moist, cool/sandy or rocky/acidic soil. All parts of the shrub are toxic if ingested.
Summersweet
Summersweet (Clethra alnifolia) is a deciduous perennial shrub common to the eastern United States. Standing from 5 to 8 feet high with a spread of 4 to 6 feet, it has tooth-edged, dark green glossy leaves that become autumn yellow. In July and August, summersweet has 3-to-6-inch spikes of exceptionally fragrant white blooms. Bee and butterfly magnets, they produce brown seedpods that remain on the bushes until winter.
Summersweet does well in full sun or part shade and moist to wet, acidic soil. A good choice for water gardens, its narrow, tall profile fits into tight spaces where wider shrubs would be crowded.
Checkerberry
Checkerberry (Gaultheria procumbens) is an attractive perennial ground cover found in bogs and oak woods from Georgia to New England and as far west as Minnesota. Standing up to 6 inches above the ground, its branches have 1-to-2-inch glossy green leaves that become red when cold weather arrives. During the summer months, evergreen checkerberry has small, pale pink or white bell-shaped blossoms suspended from between the leaves and their stems.
The red berries that follow in autumn, sometimes called teaberries, have a refreshing wintergreen flavor used for gum and candy. Deer, grouse and several fall mammals feed on checkerberry's leaves in winter. Plant in a sunny to shady spot--with acidic soil. It's not fussy about soil type. While shade-tolerant, says the Lady Bird Johnson Wildflower Center, checkerberry produces maximum bloom and berries in a sunny location with midday shade protection.