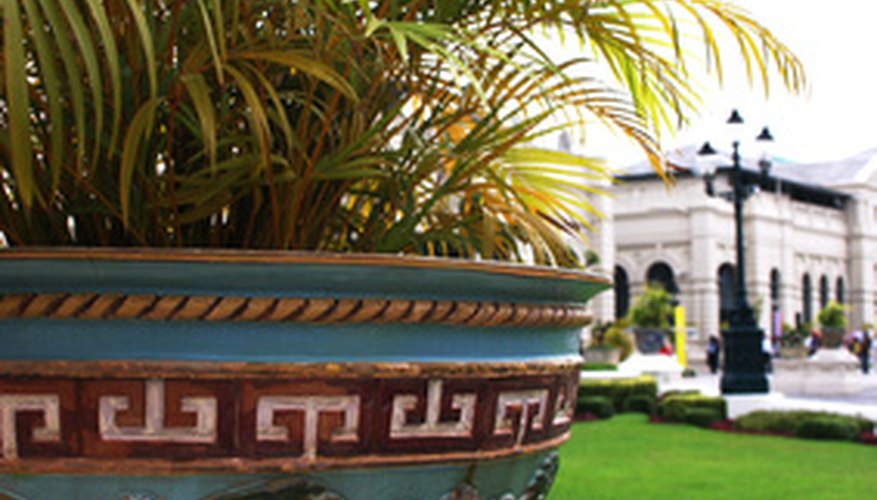 Plant porch pots vary in size depending on the size of the porch, your tastes and the type of plants you like. There are several types of pots that are used on porches-these range from square to rectangular to round, and may be ceramic, plastic, fiberglass or wood. What you choose is going to depend on the style you are looking for, and the type of plants you want to grow on the porch.
Large Plant Porch Pots
If you have a large porch and want to fill up a corner, use a large square or round pot for a small tree. Norwegian pines prefer the shade and do well on the porch. A Norwegian pine is evergreen, so your porch has color year-round (though Norwegian pines do not like cold, so you must live south of mid Florida to keep it outside year-round). People in southern climates can even decorate the tree for the holidays. For northern areas, the Leyland cypress is cold-hardy to zone 7, and if left on a porch, could be cold-hardy in colder zones.
Small Plant Porch Pots
For those with smaller porches, use a variety of small ceramic pots placed on small tables. If the porch as room for two chairs and a table between them, place a 6-inch round pot on the square table. The ceramic pots come in various colors-some with designs, some without. You can also purchase plain ceramic pots and add your own design. Make or buy a small trellis to stick in the back of the pot. Grow a vine-type plant, such as the Golden pothos or Butterfly vine (both of the Philodendron family). You can have a "larger" plant in a small space, adding depth to the small porch.
Window Box Pots
Window boxes can be hung on porch railings. These are good for large and small porches-if you have a small porch and do not have room for a table, hang window boxes on the porch railings. The large porch benefits from window boxes hung on the railings. You could have greenery throughout the porch without taking extra space for big planters or planter tables. Various types of plants could be planted in the window boxes. Vine plants can be trailed along the railing of the porch. Various types of perennials can be mixed in the long, rectangular boxes. If you like a lot of change, choose annuals-these plants die each year and can be replaced with new annuals for a different look every year. Seeds can be saved from many of the annuals, so that they can be planted for use in later years.