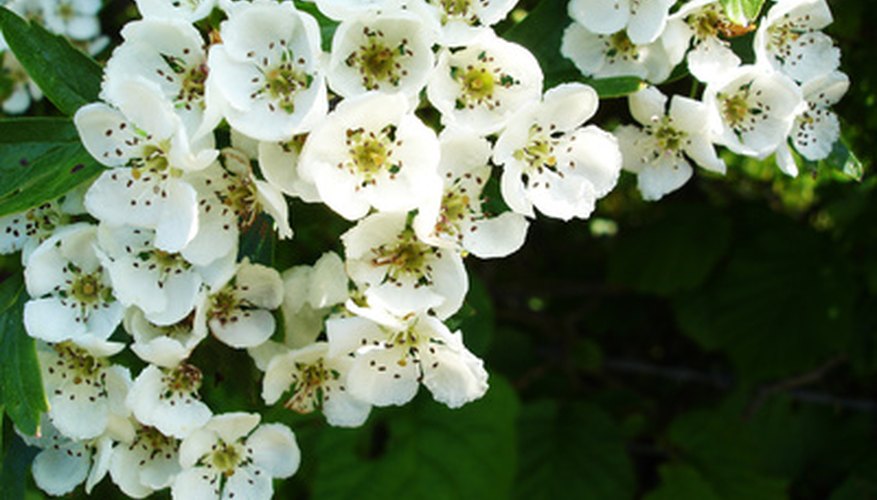 Hawthorn, known botanically as Crataegus, is a genus of flowering and fruiting deciduous shrubs and small trees belonging to the rose family. Hawthorn grows widely in USDA zones 4 through 8a and is native to North America. In addition to masses of white flowers in late spring, hawthorn leaves turn a bright red or orange in the fall and orange and red berries persist on the shrub into winter. Established hawthorn shrubs do not require regular pruning for flowering, but will need to be groomed for damage and can occasionally be pruned for clearance, when necessary.
Remove any damaged, diseased, cracked, abrading or otherwise problematic branches or leaf clusters, any time of the year that you spy them. Prune back any limbs that come into contact with the soil below.
Place all pruning cuts down to healthy wood, just above a leaf node or bud, or down to the parent branch just outside the slightly swollen branch collar. Schedule any elective pruning for shape or size for the early summer immediately after flowering or in the fall when temperatures cool.
Trim the under canopy to raise its height, allowing nearby walking traffic, if needed. Trim the tips of the branches to reduce the spread of the canopy to keep the hawthorn tree from interfering with nearby structures or utility boxes or lines. Place cuts spread evenly throughout the canopy to preserve the hawthorn's natural, roughly symmetrical shape.
Things You Will Need
Secateurs

Snub-nose loppers