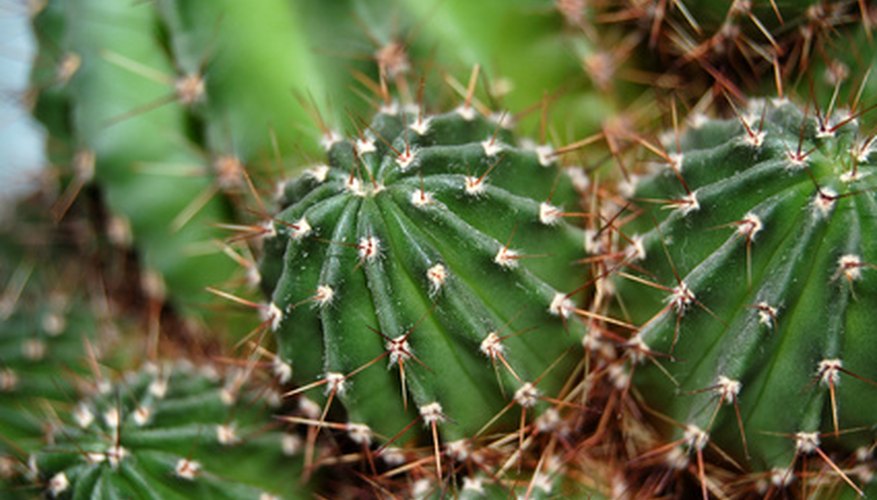 Besides the water conservation aspects of using desert landscaping, a homeowner can create a front or back yard of great beauty, one in which family and visitors will enjoy spending lots of time. All it takes is careful selection of plants and having a conception of the overall effect for which you are striving. Moving into a new home that has no landscaping, you have a blank slate to work with, allowing you full expression of your creativity. With an existing home, it may take a series of steps to reform the area to a naturalistic appearance.
Native Stone
Homeowners turning the soil in their yard in advance of planting often find they have a landscape design material already in place: the natural stone found in the rocky soil of the desert. This stone can be put to use in building pathways or natural stone patios. Landscaping supply stores have a huge selection of other stone materials native to the region, such as crushed granite, river rock and gravels of different dimensions, textures and colors. These help finish off a desert landscape design. Using one material next to another creates a look of transitioning from one area of the yard to another. These materials are also used to cover bare areas of the yard. River rock is often used to edge water features or to create a dry stream bed that wanders through the property.
Accent Features
Plants in pots can be useful accent features, perched on a retaining wall or at the edges of stone patios. Pots come in endless shapes and sizes. Glazed pots can add a spot of color to the landscape as well. Because you can move pots around as the sunlight changes during the year, they allow the desert gardener to have plants with specific sunlight needs. Boulders are also extensively used as accents in desert backyard landscapes. Grouped together, they can serve as a divider to set off an area of the yard. Their rough textures can be visually softened by adding plants and shrubs around them. Boulders, besides looking as though they've been in your yard forever, also add a feeling of mass and scale to the landscape. They are natural focal points.
Water Features
Your enjoyment of a desert garden can be greatly enhanced by putting in a water feature such as a pond, waterfall or stream. The running water creates a feeling of tranquility, and provides interesting contrast to the rugged desert plants—an oasis in other words. Even a simple feature like a birdbath with a pump that recirculates the water can add beauty to the garden and make it more relaxing. Many desert plants and shrubs attract hummingbirds or other feathered friends to the garden. Select a series of plants of this kind and group them together in the garden around the water feature to create your own wildlife sanctuary in the desert.
References