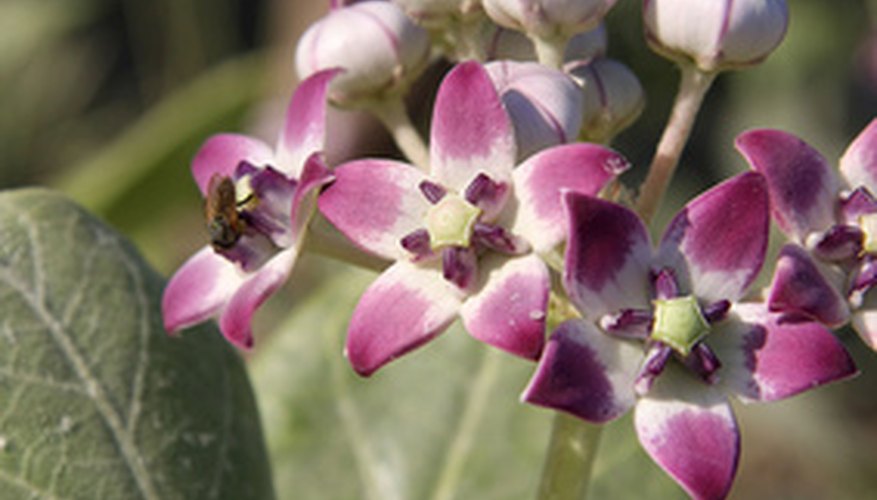 Flowers have always played a central role in Indian culture. The flowers of India traditionally decorate homes and gardens, and are also worn on clothing and in the hair. They're used extensively in Indian wedding ceremonies, for wishing good will to friends and family, and to set the mood for many cultural and religious events. Ancient Indian literature is filled with references to Indian flowers.
Dahlberg Daisies
Dahlberg daisies are bushy annuals that are usually found in areas such as Delhi during both winter and summer months. The leaves of this flower are threadlike and deeply divided with a sharp lemony scent when they are bruised or crushed. These plants produce abundant, small daisies that come in shades of yellow, orange and gold.
Kurinji Flowers
Kurinjis are bell-shaped, purplish-blue flowers that commonly grow in Udhagamandalam and Kodaikanal, in addition to lowland swamps in northeastern India. They also can be found growing in the high altitudes of the Western Ghats, carpeting the mountains. Their common name is "Blue Mountain" from their blue color. These flowers, which do not grow in any other region of the world, are distinctive in that they bloom only every 12 years, according to the Indianflower Blogspot. They were popular during India's ancient period of the Sangam age in 2nd to 3rd century A.D.--poets of that time referred to them in their poems.
Lily Leaf Acriopsis
Lily Leaf Acriopsis is a small or medium-sized epiphyte, a plant that receives moisture from the air. It has thick leaves and orchid-like flowers that bloom in spring and summer. The flower's sepals and petals are cream-colored on the edges with a light lavender color in their centers. They grow generally in swamps and in the mountain forests of northeastern India, as well as in other southeastern Asian countries.
Small Warty Acampe
The Small Warty Acampe is an orchid that produces fragrant miniature flowers. It grows in India, the Eastern Himalayas, Sri Lanka, Nepal and Myanmar. This large flower is a clump-forming orchid with a single stem that can be either erect or curved. The plant's oblong rubbery leaves are somewhat notched into two unequal lobes.
Four O'clock Flowers
Four o'clock flowers are trumpet-shaped perennials that bloom all summer. These flowers are so-named because they open around four o'clock in the afternoon and then wilt the following morning. Their flowers are fragrant and can grow separately or in clusters, in reds, pinks, yellows and even white. Bi-colored four o'clocks are also grown in India. They continue to produce new blooms from late spring until fall. In warm regions of India the four o'clock's roots are exceptionally heavy and can weigh up to almost 40 pounds or more, according to Flowers of India.net.