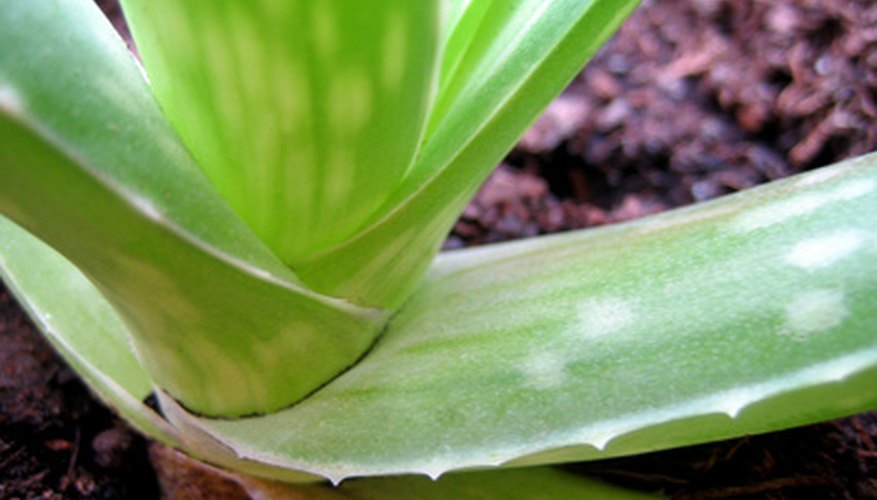 Aloe plants are best known for their medicinal properties. Many families keep an aloe plant in the kitchen to use for home treatment of accidental burns. When placed directly on burns, the juice from the leaves of this succulent provide instant pain relief and promote healing. The propagation rate from seed for aloe plants is low. Growers find propagation through shoot multiplication to be the most effective and easy method to propagate aloe plants.
Mix 1 part sand with 2 parts organic potting soil. Pour the mixture into a small potting container until it's about three-quarters full. Aloe plants do best in noncompact soils that drain easily.
Make a small hole in the center of the potting container with your thumb. The hole should be a minimum of 2 inches deep. Set the container aside.
Move the parent aloe plant to a well-lit location to begin the propagation process. Examine the parent aloe plant's base for offsets. These are small shoots that are small and not part of the main larger plant. Offsets that are viable for propagation are typically 3 to 5 inches tall with white roots several inches long.
Trace the offset to the base of the parent plant with your finger. Hold a sharp knife at a 45-degree angle where the offset and parent plant join at the base. Cut the offset from the parent plant.
Move the offset back and forth gently to dislodge it from the potting soil without damaging or detaching any roots it has developed. Lift it gently out of the main potting container.
Set the offset into the transfer potting container prepared in Steps 1 and 2. Cover half of the aloe plant offset with the potting soil mixture. Water and drain thoroughly. Repeat watering as needed when the soil completely dries.
Repeat the process to propagate the desired number of aloe plants.