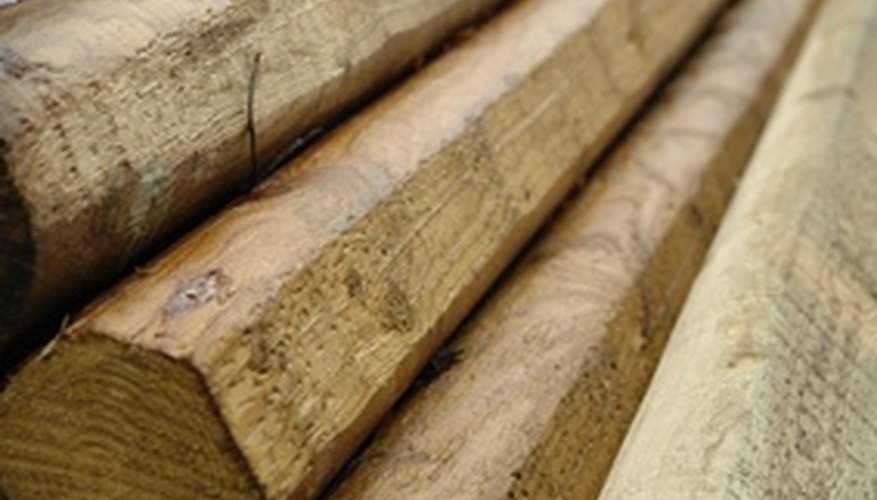 Landscape timbers can be installed two different ways, depending on what you are using them for. You can install a simple, 4-inch high border (landscape timbers are generally 4 inches by 3½ to 4 inches by 8 feet long), or you can install a higher border—anywhere from 8 inches and higher.
Four-inch Border
Outline the landscape for the border, using the marking paint or hose.
Paint or stain the timbers if you chose 4-by-4-inch posts and the posts are not treated. Some choose to use the more expensive posts for a more uniform look.
Lay the timbers along the line. If the line has curves, cut the landscape timbers, using the saw, to fit the curve.
Taller Border
Outline the landscape for the border with the marking paint or hose. Lay the first layer of landscape timbers along the line.
Cut the second row of timbers the same size as the first row (if you cut them to go around curves).
Mark the bottom row of timbers with a marker. Each timber should have three evenly spaced marks on it. Drill the marks 1-inch deep with the ½-inch drill bit.
Measure the distance from the end of the timber to the newly drilled holes, and from hole to hole. Mark the bottom of the second row of landscape timbers at those measurements. Drill a 1-inch-deep hole at the marks.
Cut the dowels into 2-inch lengths. Gently push the dowels into the holes on the first row. You might have to use the hammer to get the dowels all the way into the holes.
Fit the second row over the first row, lining up the dowels with the holes. Use the hammer to knock the second row down on top of the first row. If you want additional rows, repeat Steps 3 through 6.