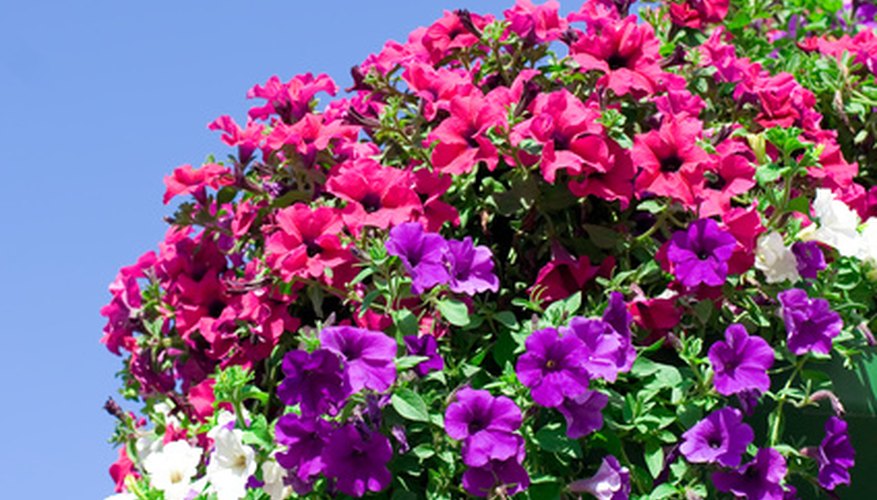 Wave petunias are hybrid cultivars of ordinary petunias and were introduced several years ago. They bloom along the entire length of their trailing stems, which makes them ideal for ground covers or for hiding ugly objects (like hydrants, trash can enclosures or dilapidated fences). They are also attractive in hanging pots. They are available in many colors typical of petunias.
Wave a Flower Flag
If you like a patriotic color display, plant the navy-colored Easy Wave Blue in a single line near the front of a long flower border, and then back it with alternating perpendicular bands of Easy Wave Red Improved and Easy Wave White. For an even greater American flag effect, plant one of the white varieties every few feet within the field of blue, and trim them back occasionally to create tidy "stars."
Ocean Wave
Go with the flow with wide undulating bands of original Wave petunias in the Purple Classic color. Grow bright yellow dwarf marigolds in front of the bands to outline and highlight the "wave" shape. The contrasting colors create a bold statement that is hard to overlook in the landscape.
Wave Walls
Disguise an unsightly fence, utility shed, garbage alcove or air conditioning unit by growing Tidal Wave petunias up and over the structures. To achieve vertical height with these wide-spreading plants, train them onto chicken wire supports positioned in front of or against the object to be covered. With a height of 1-1/2 to 2 feet and spread of as much as 5 feet, they will conceal even large objects very quickly. For total concealment, Ball Horticultural Company (developers of the Wave cultivars) recommends planting 15 Tidal Wave plants as follows: start 6 inches in front of the object to be covered, and put three rows of 5 plants each using 12-inch spacing between plants and 6-inch spacing between rows. That covers an area 3 by 5 feet both horizontal and vertically.
Build a Wave Tree or Shrub
Purchase (or use one of the many plans online to build) a multipot holder for your Wave petunias and create a weeping wave tree or shrub. These stands are made up of iron rings fashioned to hold pots with rims. They assemble in graduated tiers so that when pots of flowering plants or vines are placed within the rings, the plants crowd together to hide the supports and give the effect of a flowering tree canopy on a slender trunk. You can find instructions for a PVC pipe version of the petunia tree on the Wave-Rave website.
Hanging Waves
Plant smaller flowered Shock Wave varieties in hanging baskets and window boxes for splashes of color on porches and window sills. You can even create a wall of color by hanging flat-backed baskets directly above one another on a fence or house wall. As the flowers grow, they will cascade down over the top of the basket below, blending all of them together into a vertical band of flowers. Try alternating Wave colors or ivy for striped or textural effects.