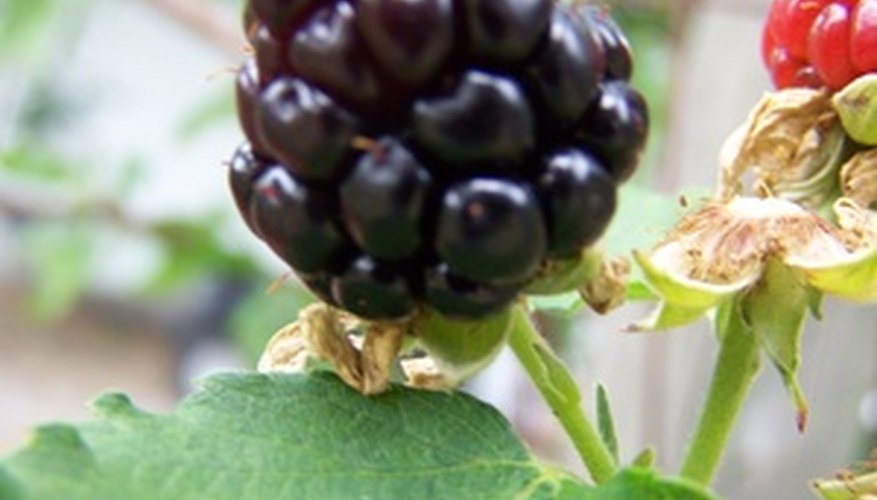 Blackberries are the fruit of old-fashioned summers when kids would roam the edges of fields seeking out the plumpest berries. The black-blue berries are sweet, tart and highly nutritious, but very perishable. They will last for only a day or two after you pick them unless you freeze them. Growing the vines is not hard. It is the managing of the vines that gets challenging because they grow rampant with enough heat, water and sunshine. If you have the time, the land and the expertise, you may find a way to tap into the market and sell your berries.
Inquire at produce stands or ask fruit growers in your area if they would be interested in buying your berries. They are likely to have a clientele base in the area. This might be the easiest way to market your berries, but you will raise less money since you will be selling at a wholesale price.
Grow perfect berries. Adjust your soil by giving them a mildly acidic, highly organic mix in which to grow. Prune the blackberry stalks carefully so no disease or pests can ruin the vines or berries. Keep weeds clear of the base of the vines. Water them consistently for plump fruit. Compare your berries to the store-bought berries and make sure yours can stand up to the competition.
Plant a lot of vines--quite a bit more than you and your family can use. Plant a 30-foot row. Keep expanding by starting new bushes. According to the University of Oklahoma, plant 6-inch sections of root about 18 inches inches apart in rows about 10 feet apart. The canes that grow will bear fruit their second year, after which they need to be cut out.
Advertise. You must get the word out that you're selling blackberries. Include advertising in your budget. If you are establishing your own line of blackberry products, develop a logo and label so people recognize your product. Take pints of your berries to local businesses and offer free samples. Maybe a local restaurant could use them in desserts. The possibilities are endless once you have a good crop of berries growing.