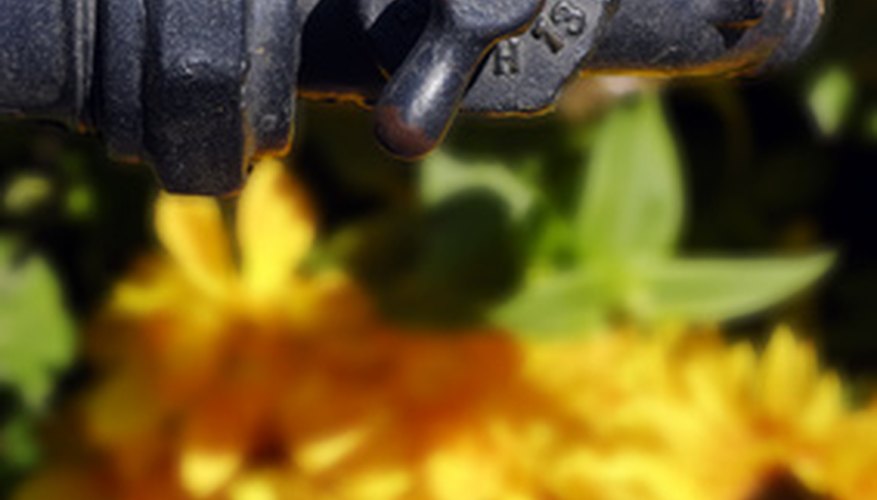 Elevated water costs in the summer require innovative techniques to conserve water while still providing plenty of moisture for your garden. Soaker garden hoses allow a slow drip of water to percolate into the soil, preventing waste through evaporation. Watering landscape plants requires the ability to reach deep into the soil to the roots. Using your garden soaker hoses well includes knowing how to attach hardware to control water pressure.
Stretch your hose across your yard with the assistance of a helper. Soaker hoses tend to curl excessively in packaging, because they are made from recycled, pliable rubber.
Twist the end cap onto the furthest end of your hose, and begin installing any additional hoses from that point back toward the outdoor faucet.
Wind your hose between plants in your garden to allow at least 6 to 12 inches between the base of the plant and the hose. Secure each section with a U-shaped landscaping pin. Place hoses 18 to 24 inches apart in flower beds.
Screw a pressure regulator on your outdoor faucet.
Attach a regular garden hose to the pressure regulator on your faucet, and connect your soaker hose end to the regular garden hose.
Turn the water on to a light flow, and check along the entire length of the hose to make sure water seeps properly from every hole. Allow the water to run for 30 minutes.
Wait an additional 30 minutes, and dig a 6-inch-deep hole with a trowel to check soil moisture levels.
Lay a mulch layer 3 to 4 inches deep on your garden bed surface over the soaker hose. Rake gently to pull back sections of existing mulch and to cover the soaker hose.
Monitor the soil moisture levels regularly by digging a 6-inch hole with your trowel. Turn the water off and on as needed to keep the soil evenly moist.
Things You Will Need
Soaker hose

Hose end cap

Landscaping pins

Mulch

Rake

Trowel

Regular garden hose

Pressure regulator
Tips
Plants will require less watering over time than when surface spraying with a hose and sprayer.

Annual flower beds require closer placement of hose lengths at a width of 12 to 18 inches, since these plants have shallow roots. Always run hoses on as level a surface as possible and run them across a slope instead of up or down.

Limit sections of soaker hose to 50 feet to allow proper water flow.

Never stretch soaker hose sections over concrete, borders or walls, or between sections of garden where watering isn't required. Create a different section of soaker for each garden to avoid wasting water.

Install a watering timer to the main faucet after determining the frequency of required watering.

As soon you notice a dry area, indicating a clogged hose, in your garden, flush your hose by removing the end cap and increasing water pressure.