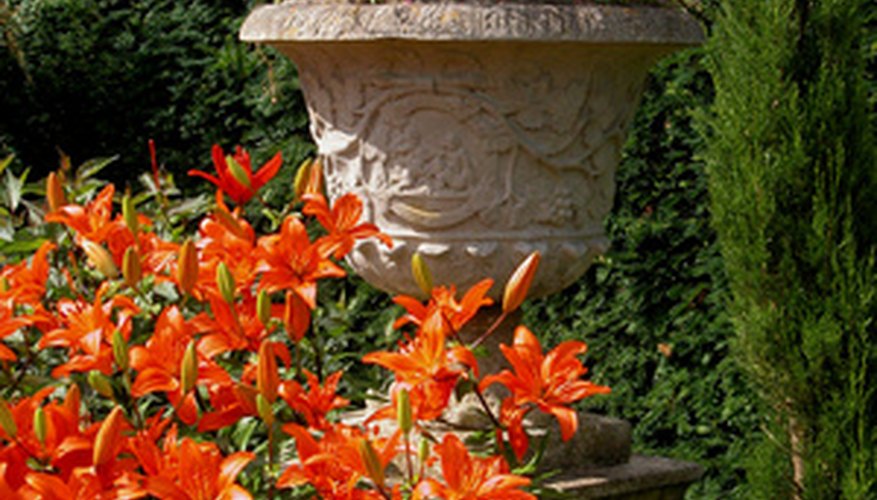 Container gardens add a certain decorative flair to the outdoor living space. The mini gardens feature flowers and foliage to provide ambience to patios, decks, porches and pool areas. Sun-tolerant container gardens present a challenge because every plant used in the design must be able to handle the intense heat of direct sun. Sunny container gardens require regular watering to tolerate exposure to direct sun. Recipes for sunny container gardens include a wide variety of annual and perennials to put on a floral show in your landscape.
Basic Container Garden Recipe
Attempting that first container garden presents a challenge of the unknown for a novice gardener. The simplest recipe for a container garden involves choosing three types of plants to fill any size planter. Select one type for height such as a penta, marigold or zinnia. Choose a second plant based on foliage characteristics. Examples include a garden spike, vinca vine, purple fountain grass or dusty miller. Choose a final plant that features thick foliage and brightly colored flowers to add contrast. Full-sun flowering annuals include geranium, rose moss or ageratum. Double the number of plants for a larger planter.
Purple Hues
Variegations in foliage color and texture create an interesting planter without blooms. Some areas of the landscape beg for the subdued touch of a foliage heavy container garden. The focus of this selection ties the different hues of purple to create cohesion in the planter. For height, plant one Pikes Peak penstemon hybrid that features medium purple flowers and dark green leaves. The variegated leaves of the tricolor salvia add bulk and foliage interest to the planter, so include three of these plants. Choose a single Chidori red flowering kale and three celebration plum calibrachoa to finish the design. Position plants in an asymmetrical design with the penstemon in the rear of the planter and the kale at the front center. Fill in around these two plants with calibrachoa and saliva.
Ornamental Grass
Some annual ornamental grasses simply beg for the center stage in a container garden. Red fountain grass exhibits a purple hue to the foliage and delicate tufted flowers in late summer. Center a single plant of fountain grass in the flower pot. Choose three specimens of a sun-tolerant trailing plant such as a lantana that features tight bunches of flowers similar to a verbena. Lantana will fill in around the front of the planter and drape gracefully over the pot rim. Round out the planter with two giant snowflake bacopa to provide subtle color to accent the beautiful ornamental grass.