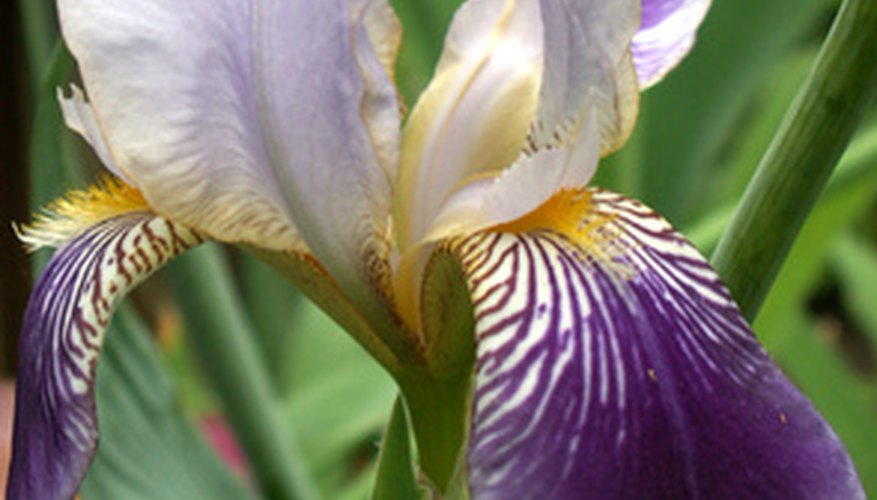 Iris plants thrive in California's warm winters and hot summers and are perennial herbs that grow from a rhizome. They have long stems and flowers with six petals. The three upright petals are called the standards; the three remaining petals are the falls. A fuzzy line or "beard" runs down the middle of each fall. Irises are bred to have a variety of color combinations for the standard, fall and beard, and are bred to standard, miniature and dwarf heights. Choose from hundreds of color combinations.
Tall Bearded
Tall bearded iris grows well with at least six hours of sun per day. Plant rhizomes with the top exposed, the roots spread outward. Two of the most beautiful color combinations are Adoree with orchid color standards and cinnamon rose-pink falls, and Halloween Trick with orange standards, maroon-black falls and orange beard. Hold My Hand is heavily ruffled with crème-beige standards, violet falls and tangerine beard.
Border Bearded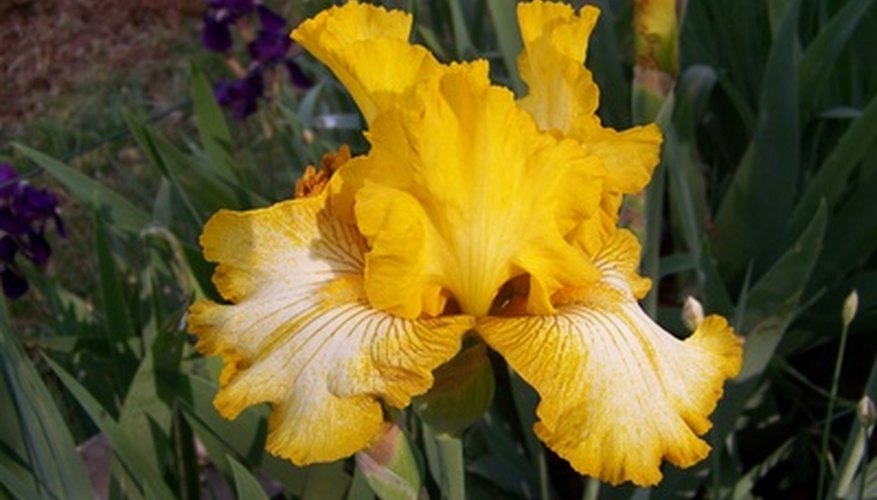 Border bearded iris grows to a height of 12 to 14 inches. These irises do well in well-drained soil enriched with compost. Some varieties have as many as 12 buds per stalk. Be My Baby is entirely creamy pink color with ruffled edges. Dark purple standards, purple-black falls and bright gold-yellow beards are the color combination for Lady of the Night. These irises adapt well to California's moist coastal climates and hot inland summers.
Miniature Tall Bearded
Miniature tall bearded varieties such as Bit of Royalty have the same characteristics as standard tall, but they grow to a height of 4 to 6 inches. They are grown and propagated in the same manner as standard varieties. Raspberry Dressing has cream-colored standards and falls which are veined with raspberry color and a yellow beard. Red Trooper is a deep garnet red color with yellow beard.
Standard Dwarf Bearded
Standard dwarf bearded irises grow from 8 to 15 inches tall and come in a variety of color combinations and spotted variations. April Angel is entirely white, including the beard. Baby Boom has creamy pale yellow standards, medium yellow falls and gold yellow beard. Blueberry Tart is blue with tan falls and red-blush beard.
Re-Bloomers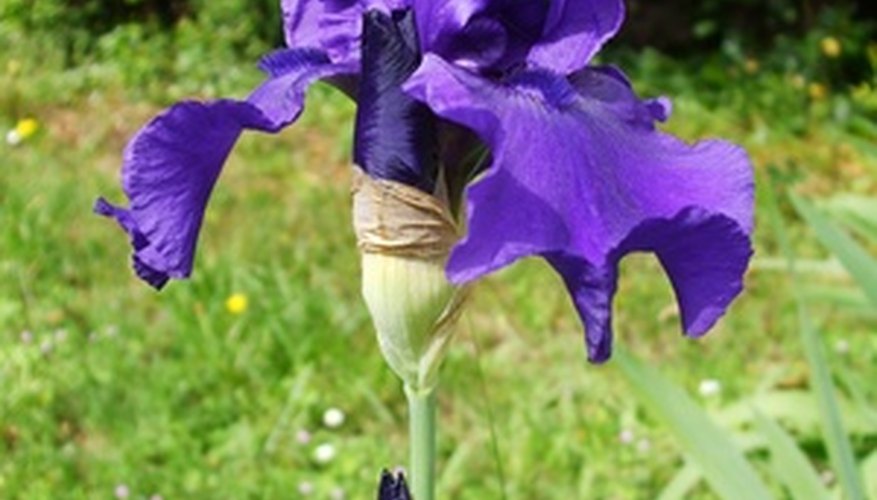 Re-blooming iris creates more than one bloom stalk in a growing season. California's weather creates such good growing conditions that re-blooming iris have become common. ASRE is the name applied to iris varieties that send up bloom stalks repeatedly during all seasons. Re-bloomers require more fertilizer and watering because they use more energy in flower production. Lady Emma is a miniature tall bearded iris which re-blooms. It has Dresden yellow standards, primrose yellow falls and yellow beard.