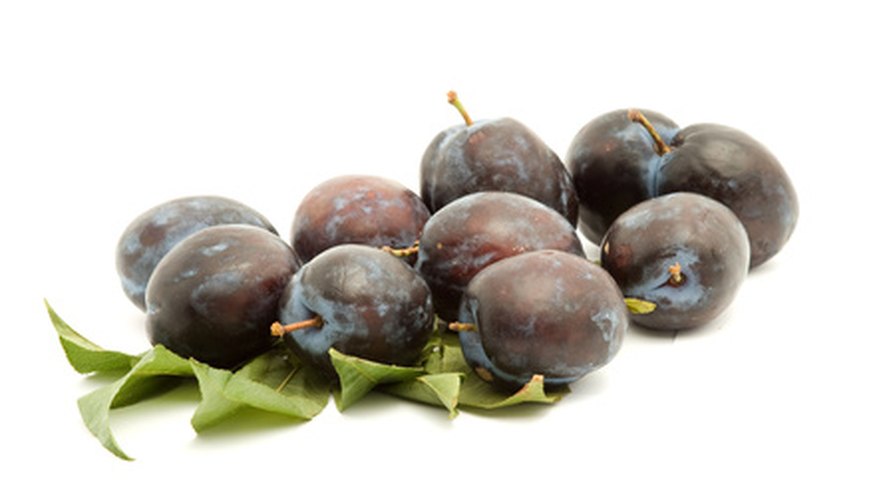 A number of different plums can be grown as ornamental dwarf plum trees. According to Harvard University, grafting these varieties to a dwarf rootstock, like Prunus tomentosa, will result in dwarf versions of trees normally thought of as full-sized varieties. By selecting a variety of ornamental plum that has been grafted to a dwarf rootstock, you can grow ornamental plum trees in constrained spaces.
Wild Plum
The North American wild plum (Prunus Americana) is often thought of as a shrub, but you can also grow it as a tree. If you prune this tree aggressively, you can limit it to dwarf size. This tree will produce fragrant white flowers in the spring and 1-inch diameter red or yellow fruit during summer. As a tree native to North America, this tree will grow in most soils in United States Department of Agriculture Hardiness Zones 5 through 9.
Princess Kay Plum
The Princess Kay (Prunus nigra) is another plum tree native to North America. A more cold-hardy sub-variety of Prunus Americana, Princess Kay plums are cold hardy to USDA Hardiness Zone 3. Princess Kay is also naturally smaller than its larger, less-hardy cousins. Unpruned, it will grow to between 10 and 15 feet tall, making it very easy to grow as a dwarf either through grafting to a dwarf rootstock or through pruning. Princess Kay's blooms are double white flowers instead of the more common single flowers. Very few, insignificant fruits are set.
Japanese Plums
There are many sub-varieties of Japanese ornamental plums (Prunus salicina). Some varieties are naturally smaller and easy to keep as dwarf trees through pruning. Other varieties will need to be grafted on a dwarf rootstock. Japanese plums are not as sweet as other plums, but have much larger and more numerous flowers. Two common Japanese plum varieties that will be dwarf when grafted are the Autumn Rosa and the Beauty. The Autumn Rosa flowers in the spring and has large purple-skinned fruit in the summer. The Beauty flowers in the spring and has green-skinned plums with amber flesh in the summer.