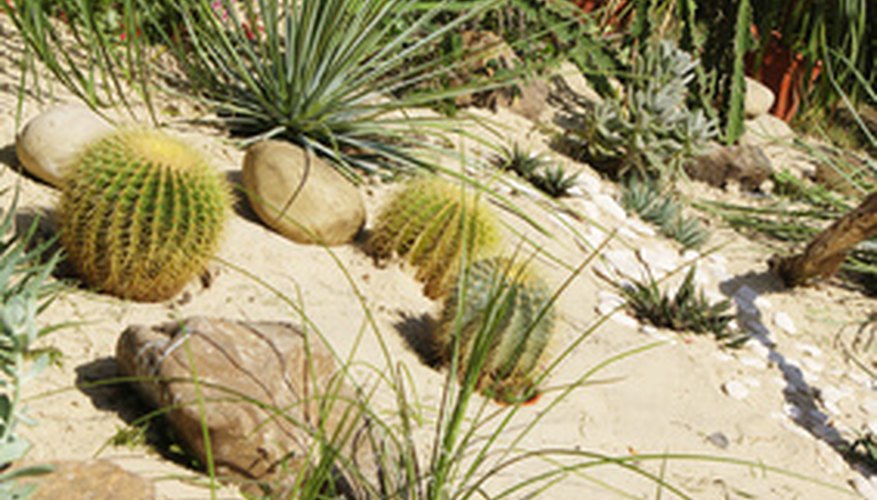 Outdoor landscapes provide visitors with their first impression of your home, while allowing you an opportunity to express your individual flair. Certain climate and soil conditions, such as arid, dry areas, limit the selection of landscape plants. Consider water availability and plant characteristics to determine the best varieties of plants to include in a desert landscape. Incorporate focal areas and groundcover features to enhance the desert atmosphere in your dry climate.
Remove existing plants and grasses that require large amounts of water from your landscape to make room for your desert landscaping. Retain a few small areas of turf to enhance your landscape and provide a surface for people and animals. Small sections of turf help cool the landscape in hot climates. Keep these grassy, green areas close to the perimeter of your home to minimize soil heat in these areas. Get rid of large expanses of thirsty turf by using a sod cutter to slice through small sections.
Plant desert varieties of shrubs and flowers to conserve water in your garden. Choose varieties of cactus, such as ocotillo. Use gloves when planting these specimens, and avoid damaging their delicate root systems. Keep cactus away from areas of foot traffic. Plant a variety of annuals, such as cosmos and sunflower, to add splashes of color. Choose desert shrubs, such as pinion and scrub oak. Install these features by digging holes large enough to accommodate the entire root balls. Make the holes deep enough to place the surface of the root balls even with the surrounding soil.
Install a natural water retention system to provide areas of moisture in your desert landscape. Relocate existing soil to provide surface contours around plantings. Unlike other types of landscapes that require gradual slopes for even drainage, desert landscapes need moisture retention near plants. Create small oasis areas within your garden to capture periodic rainfalls and direct them toward plants. Use a shovel to dig small trenches from high surfaces toward planted areas. Don't worry about the appearance. Hide these trenches in the next step.
Install the groundcover to create a desert appearance. Apply black plastic or weed block fabric over the bare soil to minimize the growth of weeds. Install a layer of fine gravel, colored rock or chipped bark over the surface of your weed block. Apply 2 to 3 inches to provide complete coverage. Allow this surface layer to fill in your small trenches. Water easily passes through these loose substances.