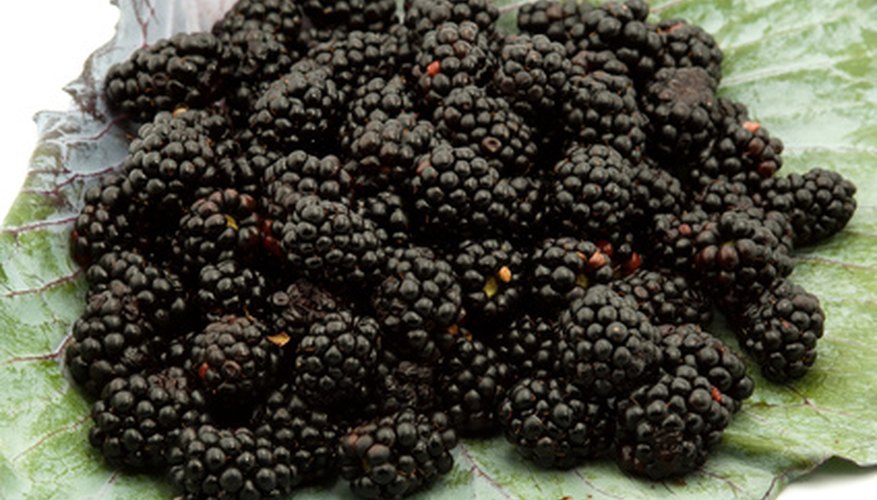 The Brazos blackberry was developed in 1959 at Texas A&M University by crossing blackberry plants with wild dewberry and raspberry plants. The result was a highly productive and pest- and disease-resistant strain of blackberry. The fruit has a more acidic taste and is a favorite blackberry for cooking and canning. Blackberries are considered a warm-season crop and grow best in the southern half of the United States. To find out what amendments need to be added to your soil for best berry production, a soil test is highly recommended. Information on how to take a soil test can be obtained by contacting your local County Agricultural Extension Office.
Locate an area of the garden that receives at least 10 hours of sun each day to plant your Brazos blackberry plants. Brazos blackberries do not produce well in the shade. Sandy soil is preferred, or at least an area that is very well drained. One Brazos blackberry plant takes up an area approximately 3 feet wide.
Clear the area of all weeds, and rake smooth. Incorporate any amendments recommended by the soil test into the top 2 to 4 inches of soil.
Plant the Brazos blackberry plants or roots. Brazos blackberries rooted in containers can be planted any time of the year and should be spaced 2 to 3 feet apart. If planting bare roots, lay the roots longways in the soil, 2 to 4 inches deep. If there are any buds on the roots sections, face them upwards. Roots are usually planted in late fall or very early spring.
Prune Brazos blackeberries in the second year. Allow the plants to grow freely in the first year. You might have a few berries your first year. The second year, after berry harvest, cut the canes that had fruit on them, known as floricanes, to the ground. The floricanes will die anyway by mid or late summer, so don't worry about cutting them. The new canes that come up after harvest, called prima canes, are the canes that produce fruit the following season. You can cut them back to 3 to 4 feet in midsummer to keep them from growing too large and to encourage branching. Every three years, cut the entire row to the ground and let it start over, to discourage disease and make the plants more vigorous.