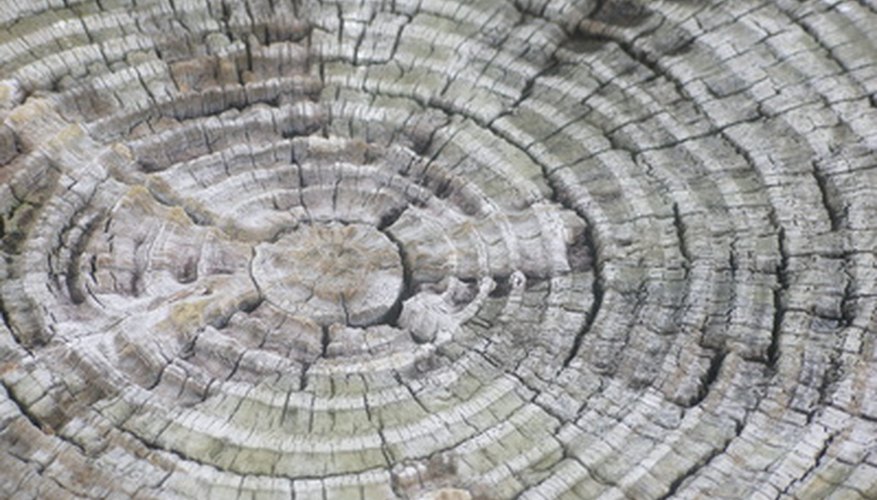 Unsightly tree stumps in your front yard can become decorative and functioning art for your landscape. It's not necessary to remove these eyesores; you can repurpose them into focal points with a few simple steps. Improving tree stumps requires no special skills, just a little creativity and a desire to enhance your property.
Birdbath Fountain
Use a hammer and chisel to carve out a 6-inch deep concave hole in the top of the tree stump to create a birdbath for your feathered friends. Add a 2-inch layer of mortar mix over the concave hole to make the birdbath bowl. Add a small fountain pump with an attached fountainhead sprayer to create a simple front yard fountain.
Plant Stand
Use the tree stump as the base for a planter to add color in your front yard. A level tree stump will hold a planter steady, but you can brace it with 3-inch nails inserted 2 inches into the stump around the perimeter of the planter, if you like. Fill a planter with trailing ivy, flowering vines or other plants that spill over from the top of the planter. Wavy petunias, spider plants and philodendrons are just a few selections that you can place in a planter on the tree stump stand. The planter and the flowing plants will add both height and dimension to the tree stump while camouflaging any imperfections.
Centerpiece
Encircle the tree stump in your front yard with a flower bed. The stump should be at the center of the flower bed. Use it as a base for a spinning copper garden sprinkler or a tiered fountain. Level the stump by slicing it evenly with a chain saw. The elevation of the stump will add height and draw attention to the center fountain or sprinkler and to the flower bed.
Garden Ornament Stand
Make a copper garden ornament to stand on the tree stump, adding design interest to your front lawn. Most craft stores carry copper foil available in 5 mil rolls that cuts and shapes easily. Trace a design onto the copper foil and cut it out with tin snips or sharp shears. Puncture holes along the bottom of the copper ornament to hang strand of beads, crystals, craft bells or other decorative elements. Puncture a hole in the top of the copper ornament so you can hang it from a small shepherd's hook. You can make a small hook with soft copper tubing, drill a hole and insert it into the top of the tree stump. Thinset or clay will work to hold the bottom of the hook inside the stump.