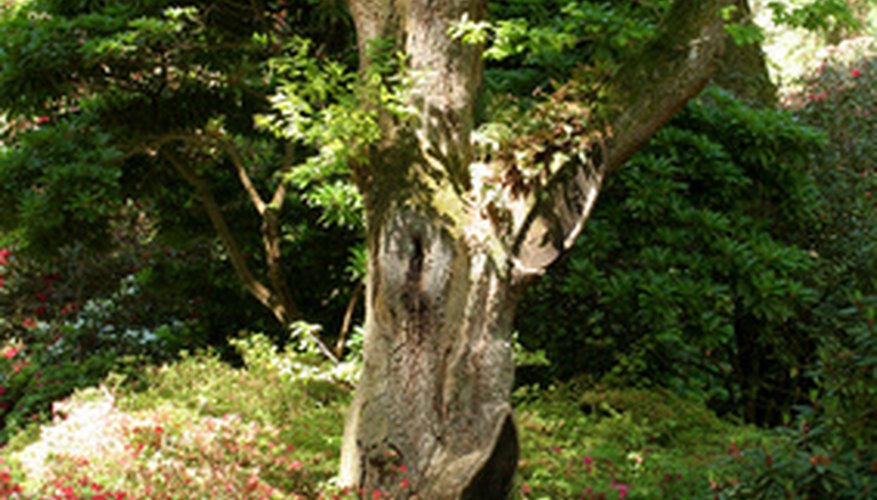 The intense Arizona sun can be tough on plants, especially flowers, groundcovers and vegetables. Frequent watering helps plants get through the summer, but some prefer to spend part of their day in the shade. These plants make great additions to an Arizona garden's design because they can be plugged into bare areas, adding color and vitality to the yard. Locations that are partially shaded from the western sun in summer afternoons are ideal for these plants.
Mexican Heather
Mexican heather (Cuphea hyssopifolia) is a quietly beautiful, even elegant, evergreen plant that grows to about 3 feet in height and 2 feet wide. It needs regular watering and part shade, because its small leaves wither in the full summer sun. Delicate purple flowers appear on the stems in the spring and the fall. The plant also comes in varieties with white or pink flowers. In climates with mild winters, like the lower deserts of Arizona, the plant may retain its blooms nearly year round. Its moderate height makes Mexican heather ideal to place in front of taller growing flowering plants.
Asparagus Fern
Asparagus fern (Asparagus densiflorus 'Sprengeri') is a thick, bushy plant, 2 feet wide and high, that adds a vivid green color to an Arizona yard. Asparagus fern is not actually a fern, but a member of the lily family and relative of the amaryllis. It is a rapidly spreading ground cover and works well in hanging baskets. The tiny blooms on the plant are white. The plant has very thin stems and leaves, which gives it a soft, feathery appearance, though its stems have sharp spines. Asparagus fern thrives in partial shade and requires regular watering. Green berries appear in summer and turn red later in the year. The berries are toxic when ingested by humans or pets. Contact with the plant may cause skin irritation.
Elephant's Food
Elephant's food (Portulacaria afra) is a lush, exotic-looking succulent that grows rapidly to 12 feet high and wide. It is easy to prune down to as short as 2 feet. Elephant's food adds a tropical aspect to an Arizona garden but it is requires very little water. It has bright green, rounded leaves that poke out from reddish brown stems. Elephant's food needs soil with good drainage, and it thrives in containers or in a garden bed. A spot where it is shaded part of the day is best for the elephant's food plant, though it tolerates the summer sun. The plant can be grown from cuttings, making it easy to share with your fellow gardening enthusiasts.