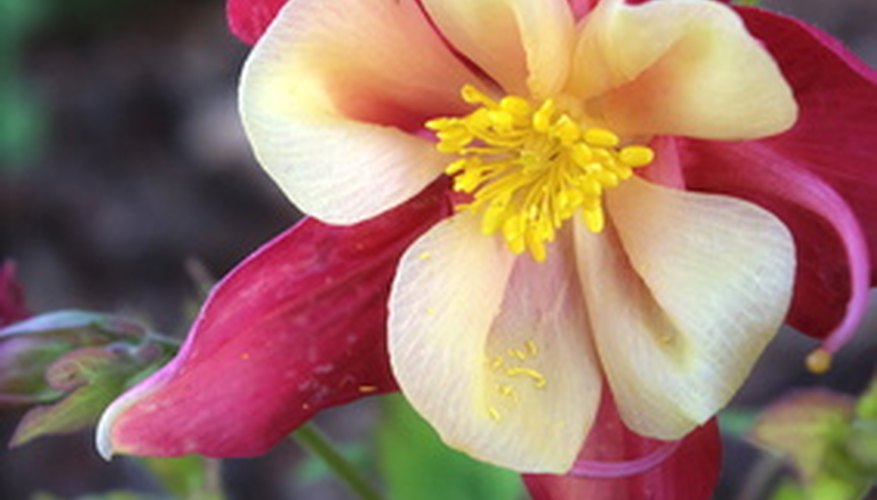 Covering U.S. Department of Agriculture Hardiness Zones 4, 5 and 6, northwestern Pennsylvania has areas where winter temperatures can plunge to minus 25 degrees F. Choosing a perennial that will tolerate winter through all 12 of the region's counties means finding those hardy in the coldest Zone 4 areas. Available plants range from shy woodland herbs to soaring trees. Flowering perennials will bring years of color to your Keystone State garden.
Wild Geranium
Wild, or spotted, geranium (Geranium maculata) thrives in the moist, humus-rich soil of northwestern Pennsylvania's woods and along its shaded roadsides. A low, spreading perennial up to 2 feet high and 1 1/2 feet wide, wild geranium has mounding, deep-green five-lobed foliage. Shades of red and yellow mottle the fragrant leaves in the fall.
Wild geranium has pink to lavender clusters of small saucer-like flowers in the spring or summer. Flowers last for up to seven weeks, but seldom live past July. Unusual seed capsules account for the plant's other name of cranesbill. Without additional watering in dry summers, advises the Missouri Botanical Garden, the wild geranium may turn yellow. Use this perennial in shady areas with rich, moist soil. It's effective as a ground cover or when used to trail over stone walls.
Eastern Columbine
Another shade-loving Zone 4-hardy perennial, eastern columbine (Aquilegia canadensis) grows wild in woodlands with average soil. Standing up to 3 feet high and 18 inches wide, it has delicate blue-green lacy foliage. In spring or early summer, red-and-yellow flowers with prominent yellow stamens appear on slender, nodding stems. Their red, nectar-filled spurs attract hummingbirds.
Plant eastern columbine in a well-drained, moist, partly shady to shady spot. These perennials may die back in the heat of summer but will re-emerge when cooler weather arrives. Eastern columbine self-sows readily. In the soil and location, and with enough room, it will colonize.
Blue False Indigo
Blue false indigo (Baptisia australis) is a late-spring to early summer bloomer that does well in moist, acidic clay soil. Standing up to 4 feet high and wide, this perennial grows in colonies along northwestern Pennsylvania's streams banks. In bloom, blue false indigo puts on a memorable display. Upright 12-inch spikes of purple flowers appear above its mounding clumps of blue-green, clover-like foliage.
Plant blue false indigo in sun--preferably--to part shade and well-drained soil. You can maintain its shape and avoid the need for staking by cutting it back after it flowers. Doing so, however, will prevent it from forming the striking black seed pods that are so effective in floral arrangements.