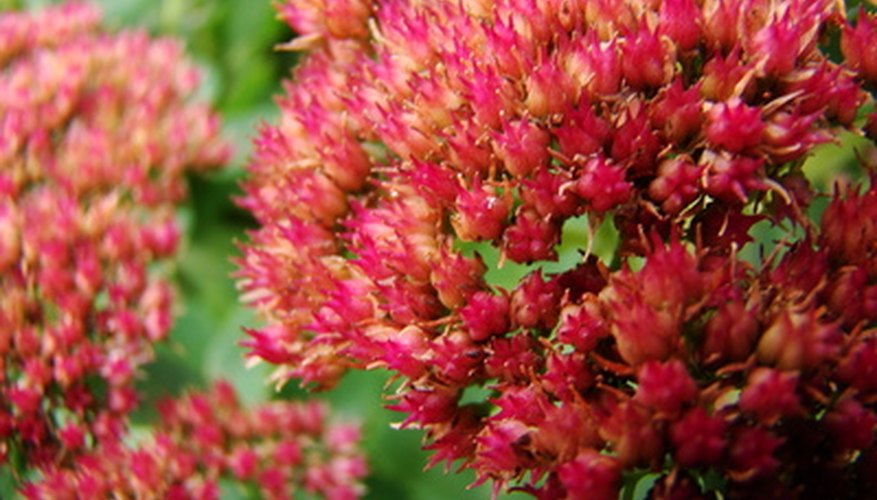 Autumn Joy sedum (Sedum x 'Autumn Joy'), is a tall, perennial succulent with juicy, grayish-green leaves. In late summer, Autumn Joy will produce dense pink flowers that turn a coppery-rust shade by autumn. Often, Autumn Joy sedum will become so long and leggy due to lack of sunshine or poor soil that the plant will lean over. When this happens, a good pruning will return Autumn Joy to its original glory. Autumn Joy can also be trimmed back once or twice in early summer to contain its size and keep the plant neat and tidy.
Disinfect your pruning shears to prevent the transfer of bacteria and disease from plant to plant. Wipe the pruning shears with rubbing alcohol or a mix of one part household bleach and nine parts water. Use pruning shears with sharp blades, as dull blades can damage the stems.
Prune long, leggy Autumn Joy down to 2/3 of its size. The flowering may be somewhat delayed, but the Autumn Joy will soon rebound.
Maintain a compact, bushy shape by trimming Autumn Joy as needed in early summer. Use the pruners to trim the top of the plant, staggering the height of the plants to promote a natural appearance. If necessary, Autumn Joy can be pruned twice in spring and summer, but don't trim the plants after mid-July.