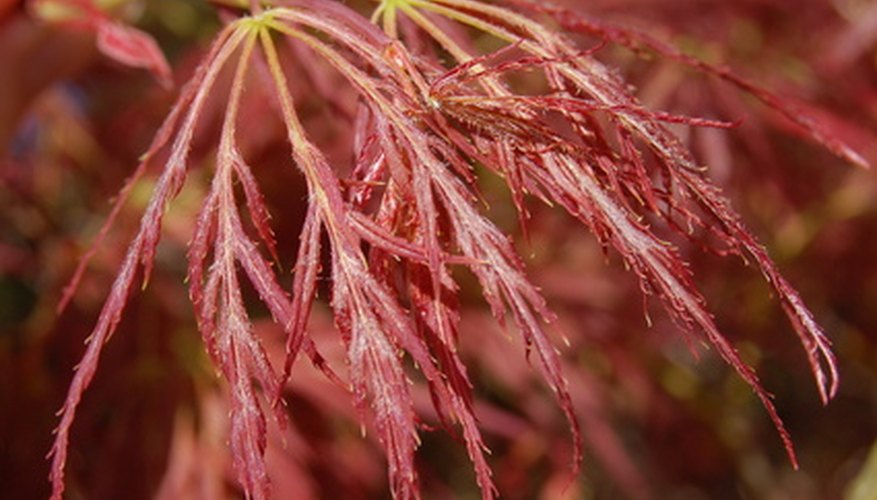 Japanese maple image by Kathryn Palmer from Fotolia.com
Weeping Japanese maple trees are shrubby but can be staked for a taller tree look. They range from just a few feet tall to upwards of 12 feet tall and just as wide. The most popular of the four weeping varieties is the crimson queen. The others are the red , the bloodgood and the cutleaf green. The crimson queen's lacy red to burgundy leaves can brighten up any landscape, but many people plant this low-maintenance dwarf in locations that are too small, making its care much more difficult than it has to be.
Plant the tree with at least 6 feet of space on all sides. If you inherited a tree that was planted in a space that was too small and it is encroaching on other beds or sidewalks, prune the branches back in the early spring and again in early winter. When given enough space, constant pruning is not necessary.
Water the tree to keep the soil moist for the first few months after planting. Then water once a week, saturating the soil. If the weather is very dry, hot or windy, your weeping maple may need to be watered more often, especially during the first year.
Apply a slow-release fertilizer to the soil after you start to see new growth. Fertilize once a year thereafter in the spring. Follow the manufacturer's recommendations on the amount to apply.
Select the strongest branches to allow to grow and prune back the rest by 1/3 when the tree is first planted. This will encourage more branching and reduce some of the stress of the transplant. Prune to shape in the late winter, before the branches start to bud or just let the tree grow naturally. Cut off dead or diseased branches anytime.
If the tree was planted in full sun, plant a larger tree nearby to create some shade. Japanese maples like dappled sun or bright shade. Full sun will cause leaf scorch.
Things You Will Need
Hose

General-purpose slow-release fertilizer

Pruning shears