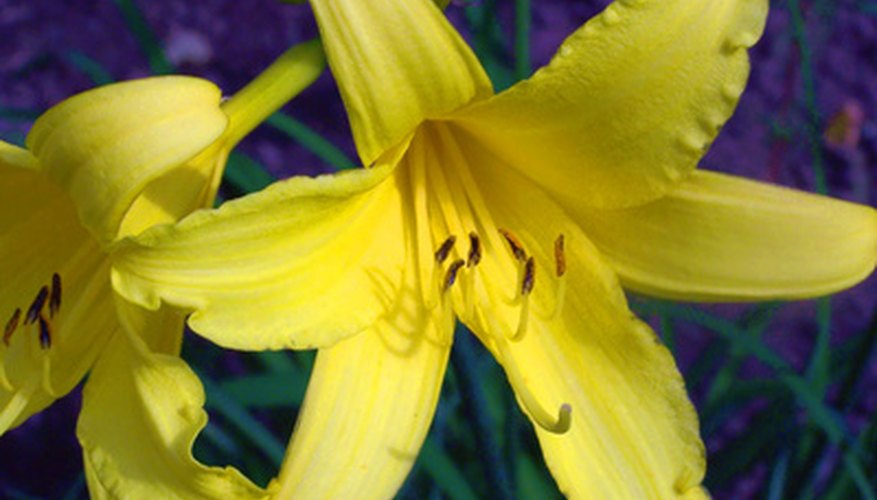 Tucked along the back of a perennial garden or along a garden wall, tall flowers provide a commanding landscape presence to the garden. Grown in dozens of varieties, each one with its own distinct color, shape and size, tall, perennial flowers provide a long-lasting addition to the landscape. Each year they come back fuller and taller for a vibrant landscape display.
Hollyhocks
Hollyhocks (Alcea rosea) are perennial flowers with a clump-like growth habit that grow 2 to 5 feet high, creating a tall, striking garden addition. Emerging in early to midsummer, the flowers grow in a wide range of colors including, white, red, pink, purple and yellow. Attached to the pale green stalk, hollyhocks grow on clusters along the spike of the plant. Tucked along the back of the garden, these tall plants create a focal point to the landscape. Hollyhocks require full sun only and dry to medium soil moisture. Hollyhocks do best in USDA Hardiness Zones 5 through 9.
Autumn Minaret Daylily
Autumn minaret daylilies (Hemerocallis 'Autumn Minaret') are perennial flowers with long, arching foliage and tall stems that grow 3 to 6 feet tall and 1 to 3 feet wide. These daylilies have a moderate growth rate and are comprised of thin, six-petaled yellow flowers that surround an orange center. As the name suggests, autumn minaret daylilies open in the morning to bloom into the evening, only blooming for one day. Drought-tolerant, autumn minaret daylilies attract butterflies to the garden and are ideal nestled among the garden as edging along a walkway or patio. Adaptable and sun-loving, the plants prefer six hours of full sun per day, but can tolerate less. In high temperatures, they appreciate a little shade during the sweltering midday sun. Autumn minaret daylilies require nutrient-laden soils that are humus-rich. Divide autumn minaret daylilies in spring or fall to plant in other areas of the garden. This hardy plant grows in USDA zones 3 through 10.
Japanese Anemone
Honorine Jobert (Anemone × hybrida 'Honorine Jobert'), a variety of Japanese anemone, is a woody perennial with a moderate to aggressive growth rate. The plants grow 3 to 6 feet tall and 1 to 3 feet wide with white flowers that sit atop the erect stems. Japanese anemones have a spreading growth habit and showy blooms that have a ring of yellow stamens to contrast with the white petals. Blooming in late summer, honorine jobert Japanese anemone are ideal tucked along a back flower border for height and fullness. Partial to shade, Japanese anemone require well-drained, moist soils to thrive. Divide the honorine jobert Japanese anemone in early spring or fall to grow in other areas of the garden. The plant grows well in USDA Hardiness Zones 4 through 8.