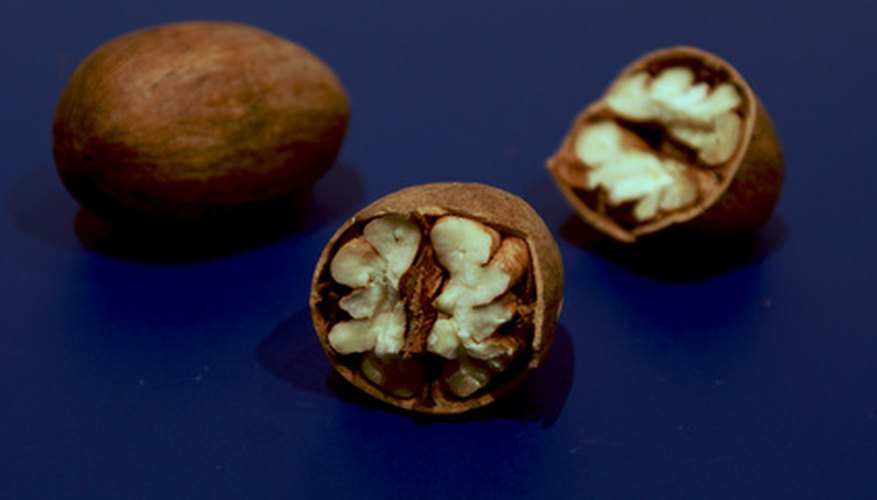 South Carolina is a coastal state with mild winters and warm, humid summers. Soil in South Carolina is divided between coastal, piedmont and mountainous terrain. The way you fertilize your fruit and nut trees will depend on the soil conditions you must deal with. Fertilizing fruit trees may include a treatment of liquid or granulated fertilizer as well as mulch or an application of organic materials and compost.
Test your soil before planting fruit or nut trees to determine your soil structure and pH. Clemson University maintains an agricultural service laboratory that will test your soil for a fee. For instructions on submitting a soil test as well as paperwork and fees, contact your local county extension service. Test your soil before planting your trees and every two years after trees have been planted to adjust fertilizer levels.
Based on recommendations made by the test in step 1, purchase soil amendments and fertilizers to optimize your soil structure, change the pH and increase the nutrients in your soil. You can boost nutrients and improve your soil's structure by adding organic materials such as compost, shredded leaves and straw. Heavy clay soils such as the kind found in the mountains and Piedmont regions can be improved by adding gypsum to the soil. Fine tuning your pH so that it is within the ranges of 6.0 and 7.0 will help your fruit and nut trees take up nutrients more efficiently. To change the pH, add sulfur to lower the pH and lime to raise it.
Break up the soil over a wide range of ground, not just the planting area. This will encourage your trees to develop a strong root system. If you fertilize your plants just in the planting zone, it creates a potted tree effect in which the root system never develops outside the fertilized region. Spread soil amendments to a depth of 4 inches over the soil. Then turn them into the soil with a rototiller.
Plant your tree by digging a planting hole twice as large but no deeper than the root ball. Place the tree inside the hole and fill the space around it with soil. Do not add fertilizer to the hole. Doing so can burn the root structure. Mulch around the root ball to hold in moisture and crowd out grass and weeds that can damage your tree.
Apply fertilizer every year according to the recommendations made in the soil test in step 1. In the absence of a soil test, apply a balanced, granulated fertilizer (10-10-10) at a rate of 4 lbs. per every inch of trunk diameter as measured by a caliper 4-½ feet above soil level. Apply this fertilizer in mid-February by spreading it evenly over the roots of the tree.
Things You Will Need
Shovel

Compost

Shredded leaves

Straw

Gypsum

Sulfur

Lime

Rototiller

Granulated fertilizer (10-10-10)

Calipers