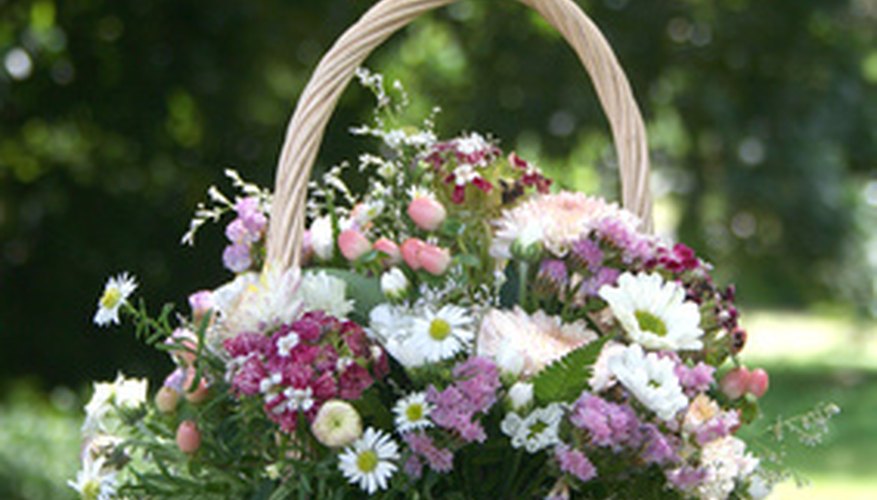 Grow a cut-flower garden and enjoy beautiful fresh flowers throughout the growing season. Choose flower colors that blend well together and have various textures. If confined to a small growing area, group plants with similar sun and water needs. Choose long stemmed varieties of flowers for cutting (consult seed packet labels and transplant tags). Cut flowers above a leaflet to encourage branching and additional flowering. Several flowers grow relatively easily in a cutting garden.
Zinnia
Zinnia (Zinnia elegans) is an herbaceous annual with a variable height depending on the cultivar. Zinnias range in height from 7 to 36 inches tall and grow rapidly. Zinnias have 5-inch long, dark green leaves and flowers in every color except blue, with flower heads up to 6 inches across. Grow zinnia in full sun on various soil types.
Marigold
Marigolds (Tagetes erecta) are bushy annuals with a densely compact form and varying height depending on the cultivar. Marigolds grow rapidly and range from 6 to 36 inches in height. Its compound leaves are up to 12 inches long with 2 inch leaflets. Marigold flowers range in shades of yellow, orange, red or brown, in dense heads up to 5 inches across. Grow marigolds in full sun, on various soils.
Limonium
Limonium, also known as Statice, includes many species of annuals, perennials and small shrubs. Limonium grows up to 2 feet tall, with variously sized leaves depending on the cultivar, and display a showy spray of small flowers on wiry stems. Limonium colors are often white, cream or commonly, purple. Grow limonium in sheltered, sunny locations, on light, well-drained soils with plenty of moisture. Limonium are also good for dried flower arrangements.
Sunflowers
Sunflowers (Helianthus) are annuals and perennials and come in many sizes, ranging from 3 feet to 15 feet tall. Pinch back flowers to encourage branching and smaller flowers more suitable for cut flower arrangements. Sunflowers are daisy-like and flower-head sizes vary by cultivar and bloom in shades of yellow to ruby red. Grow sunflowers in full sun, on nutrient-rich, well-drained soils.
False Queen Anne's Lace
False Queen Anne's lace, also known as lace flower, or bishop's weed grows 12 to 36 inches tall with light green leaves and an umbrella-shaped inflorescence of small, white flowers resembling lace. Grow lace flower in full sun to partial shade on moist, well-drained, nutrient-rich soils.